In today's internet era, we have witnessed how numerous groundbreaking advancements have revolutionized the way business operations are carried out. In fact, the latest technologies like blockchain, drones, artificial intelligence, big data analytics, fiber optics, IoT, virtual assistants, cloud computing, image recognition, and others play a significant role in modern industrial sectors.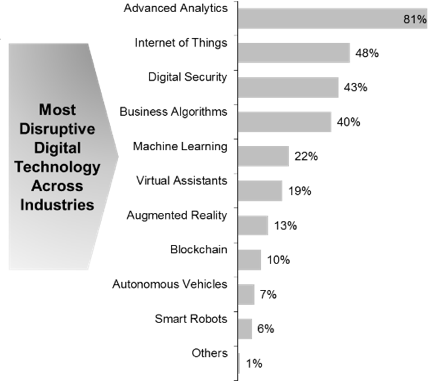 Image Source: Gartner CIO Survey
Whether you work in automotive, manufacturing, retail, or the broad field of healthcare, the results of being augmented by digital tools are bound to be fascinating. If you are unaware of the exhilarating benefits that technology can offer for both business and customers, fret not.
This article clarifies how present-day innovation is helping different industrial sectors to close more deals rapidly.
1.   Manufacturing Industry
Manufacturing is the reason why you are able to use several products and enjoy the services today. However, integrating technology into the manufacturing segment has helped take it to an entirely new level. Once seen as the blue-collar industry, uses technologies to streamline processes and ensure maximum productivity. It leverages –
3D Printing: This additive layer manufacturing technology ensures greater flexibility in production by reducing design to production time, manufacturing lead time, and waste.
Virtual Reality: It simplifies the product design process by excluding the effort to build complex prototypes. Designers and engineers use VR to produce realistic product models.
Industrial Internet of Things: IoT-enabled equipment can communicate data to track the supply-chain assets, gauge vendor relations, as well as schedule predictive maintenance programs.
AI and Machine Learning: It lets robots and humans to collaborate, build agile manufacturing processes, and make smart manufacturing decisions.
Automated HR System: It lets employees fill out their data, apply for leave, and work in real-time such that the HR executives don't have to deal with mundane tasks.
2. Banking & Finance Industry
In recent years, the banking business has progressed and grown with the aid of the modern technologies. The banks regarded as a place with long queues, and an unsurmountable amount of paperwork has lessened the need for labor and papers due to technological advancements stated below.
Blockchain: Banking and financial segment use blockchain to improve the efficiency of clearing and settlement systems. KYC, syndicated loans, trade finance, and payments are said to be highly effective with blockchain.
Robotic Process Automation: Banks are incorporating RPA for faster process execution and operational efficiency. With this technology, banks can utilize legacy and new data to bridge the gap between multiple processes.
Artificial Intelligence: It lets banks use the extensive histories of data to make much better decisions across various functions such as back-office operations, customer experience, product delivery risk management, and compliance.
API Banking Platform: It allows the banks to adopt new business models, use cases, and experiment with new technologies like blockchain at less cost. It also aids this industry in future-proofing their systems.
Hybrid Cloud: It allows banks to provide innovative offerings to clients while addressing issues like data security, compliance, and governance alongside the ability to mobilize massive resources quickly.
3. Healthcare Industry
Technology has brought in a massive change to the healthcare sector. Patients now have access to diagnostic tools, best treatments, and countless invasive procedures resulting in less pain and quick healing.
Additionally, the availability of newer technologies has enhanced the quality of life of healthcare professionals. The following are the tools that have changed the healthcare industry.
mHealth: Physicians and service providers use mHealth tools for orders, documentation, and share information with patients. It frees healthcare devices of wires and cords and lets professionals check on healthcare processes on-the-go.
Electronic Health Record: EHRs are real-time, patient-centered records that instantly and securely make various information available to authorized personals. It includes a patient's clinical history, immunization dates, radiology images, treatment policies, test outcomes, etc.
Telehealth: It lets physicians distribute health-related services and information via telecommunication technologies. It allows long-distance patient care, advice, education, intervention, reminders, monitoring, and remote admissions.
Wearable Technology: It is intended to forestall diseases and upkeep of well being, for example, physical action monitoring, weight control, etc. It directly impacts the clinical decision making while improving the quality of patient care.
Self Service Kiosks: It helps expedite processes like hospital registration. Now, patients can do everything related to registration without having to talk to anyone. It assists patients with verifying identification, paying co-pays, signing paperwork, and other registration needs.
4. Construction Industry
Today, new innovations in the construction segment are being developed. Things like associated gear and apparatuses, portable applications, autonomous heavy equipment, drones, etc. are already here, and being deployed on job sites across the world.
This is foreseen to upsurge in the future as companies realize the long-term benefits of such techniques. Some of those crucial technologies are highlighted below.
AI and Machine Learning: It helps firms transform the data collected to predict future outcomes on construction projects. It augments efficiency by decreasing the time squandered in the construction site to retrieve instruments, materials, or other gear to perform tasks.
Virtual Reality: It gives workers specific exposure to confined environments, such as working safely at height. VR simulators are utilized to prepare laborers on everything, for example, working on cranes and excavators, soldering and building, and so on.
Drones and Site Sensors: Developers can use drones to conduct job site inspections quickly, take photos of work progresses, as well as detect potential hazards on site. They can track laborers throughout the day to guarantee their wellbeing.
Building Information Modeling: BIM helps constructors design a visually appealing 3D model of building, numerous layers of metadata, and then render them within a collaborative workflow. This way, it offers a complete picture of the project.
3D Printing: It has the potential to change material sourcing as it gets materials faster and streamline the process by eradicating additional steps. With 3D printing, you can print materials on-site, lessen waste, and save transportation and storage costs.
5. Travel Industry
Travelling has evolved with technology. Now, businesses in the travel industry can increase the efficiency of their operations and improve customer experience with the latest tools and gadgets. It has made the life of both the travel enthusiast and the organizer more convenient than ever.
Hence, it is essential to understand and adopt these trends to optimize your travel business performance. Some of such trends and developments in the travel segment include:
Big Data: In modern tourism management, big data is useful to improve personalization. The travel companies can use this information to make specific adjustments to their offerings and analyze current business performance.
Artificial Intelligence: AI is being used in the travel and tourism industry for customer service purposes, with chatbots delivering the rapid response to queries, and continuously learning from interactions. This technology can also conclude business trends associated with customer satisfaction.
Robotics: Robots equipped with speech recognition technology are often deployed within the travel industry. It is used for pre-screening, making waiting times more productive for customers, and sometimes carrying customer's luggage to their respective rooms.
Augmented Reality: AR helps travel agents by augmenting a customer's chosen destination. Through graphical overlays, they can significantly enhance the customer experience and provide the clients with valuable information when it is most relevant.
Recognition Technology: It includes fingerprint, facial, retina scanning, and other biometric identifiers. Travel industries use such technology to allow access to hotel rooms or perform semi-contactless check-outs. However, in the future, it is predicted to let customers pay for meals in the restaurant.
Bottom Line
With modern disruptive technologies breaking through on a daily basis, various industrial leaders have put themselves in a state of endless frontward motion. And, that's a good sign for driving future progress. Therefore, if you want to be ahead of the competitors in your adored segment, it is essential to embrace the innovation and the changes it can bring in the upcoming days.