Hospital Email List and Mailing List
Connect with 650,790 Hospital CFO's, Decision Makers, Directors, Administrators and others across the globe with our hospitals email list.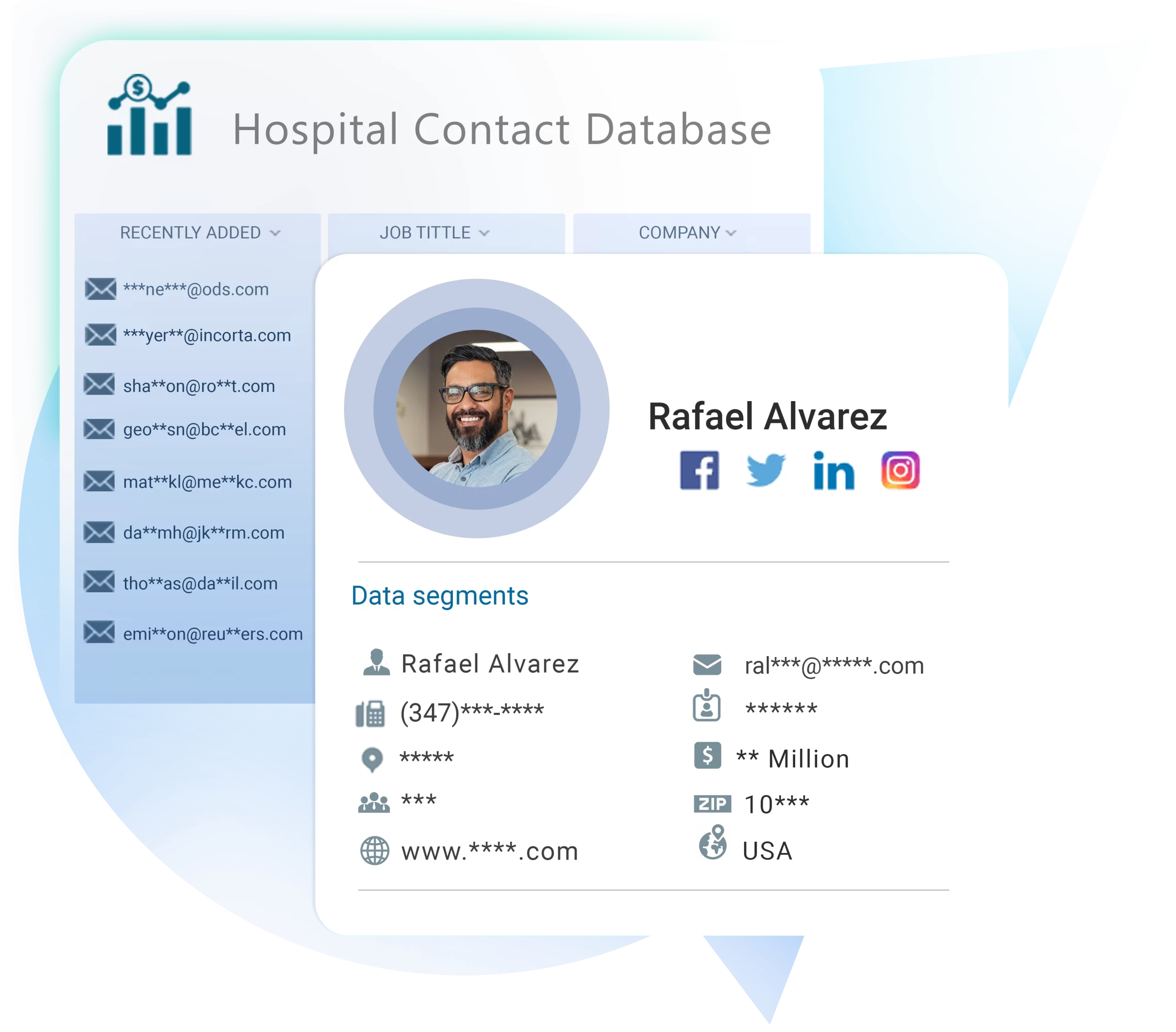 Trusted By Over 4k Organizations To Grow Revenue








Hospitals Email & Mailing Lists
Blue Mail Media's verified hospitals email list helps you pitch your healthcare-related products or services to targeted decision-makers such as physicians, dentists, nurses, administrators, and others in hospitals and health organizations. Our comprehensive Hospital Email Database facilitates multi-channel marketing efforts and helps you easily acquire quality leads.
The need for high-quality healthcare services is increasing. As a result, significant efforts are made to obtain a focused hospitals mailing list to maximize ROI in this market. Several factors contribute to the worldwide increase in hospitals. As a result, marketers consider Blue Mail Media's 100% significantly certified hospital email lists optimal for global marketing initiatives.
Our company dedicates immense efforts to accumulating, verifying, and enhancing its Hospital Mailing & Email Lists so that marketers can achieve their marketing and business goals with the minimum hassle. Our hospital executives email list is prepared with enormous hardships so that you can reach the healthcare staff with no hassles. Our database is clean, verified, and updated regularly so that you can improve conversions and get recognized globally. It is built vigilantly to bridge communication gaps between your business and the hospitals and open up opportunities for extensive market growth.
Partner with our trustworthy hospital email directory to acquire a head start on successful marketing for your multiple campaigns, recruiting services, insurance systems, patient compliance programs, medical equipment supply, and more. Specifically, marketers can leverage our data to enhance conversion rates and profits and contribute to increased audience involvement through emails and networking.
How Marketing To Healthcare Decision-makers Can Help You?
Each hospital has its own set of criteria. For example, a hospital may require a large quantity of surgical equipment to improve its operating division and reduce surplus pharmaceutical product supply. This hospital must be at the top of your list of possible clients as a surgical tool maker.
We have relationships with credible sources like events, tradeshows, healthcare magazines, business journals, reporting agencies, and so on, from which we gather data. This high-quality data, along with our cutting-edge data enrichment techniques, distinguishes and authenticates our hospitals' email lists.
Our complete medical's hospitals and hospital executives mailing list will help you target prospects for maximum response rates and assured outcomes. Get a personalized hospital email database for your unique marketing initiatives. You can choose a multi-channel b2b marketing strategy to increase your market presence.
Using our targeted email lists, it is possible to contact hospitals specializing in different types of services. You can also ensure that your B2B campaigns target the right businesses, leading to efficient use of money and resources.
Understanding Hospital Email and Mailing Lists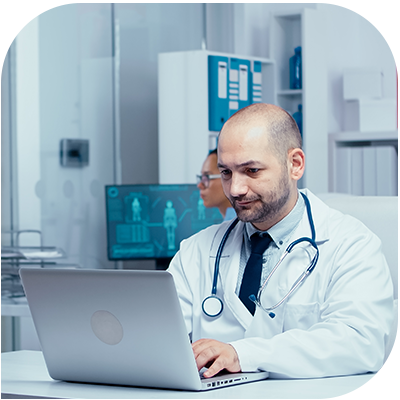 Our vast Hospital Email and Mailing Lists consolidate leads from several hospitals into a single resource. Using this, you can check the names, emails, addresses, contact numbers, titles, and other vital contact information of countless healthcare professionals.
Create leads and sales, market to specialists, important research decision-makers inside healthcare companies, and locate hospital personnel to speak with all with the help of Blue Mail Media.
Here are some of the sources where we gather our data:
Reach the right prospects at the right time
Customize Your Hospital Email Address List from the Following Selects
| | | |
| --- | --- | --- |
| Hospitals CEO Email list | Hospitals CFO Mailing list | Hospitals HR Directors |
| Hospitals CIO email database | Hospitals Professionals email address list | Hospitals CMO Contact List |
| Psychiatric Hospitals Email List | Hospital Equipment and Supplies Mailing List | Medical and Hospital Equipment Email List |
| Hospital Decision Makers Mailing Lists | Animal Hospitals Email Lists | Hospital Executives Email Database |
| Hospital Consultants Email List | Medical Record Department | Hospital Facilities Maintenance Contact List |
| Hospital Marketing Email Database | Hospital Administrators Mailing List | And More! |
Reap Maximum Campaign Success With Our Hospital Email Database
Our hospital email database contains millions of healthcare lead records. Most of all, we get all our information from legal and opt-in sources. In our complete medical's hospitals and hospital executives mailing list, you can find the following information: