Reach major business decision makers from MNCs to SMBs with 25-35% match rates with Blue Mail Media's Email Appending Services.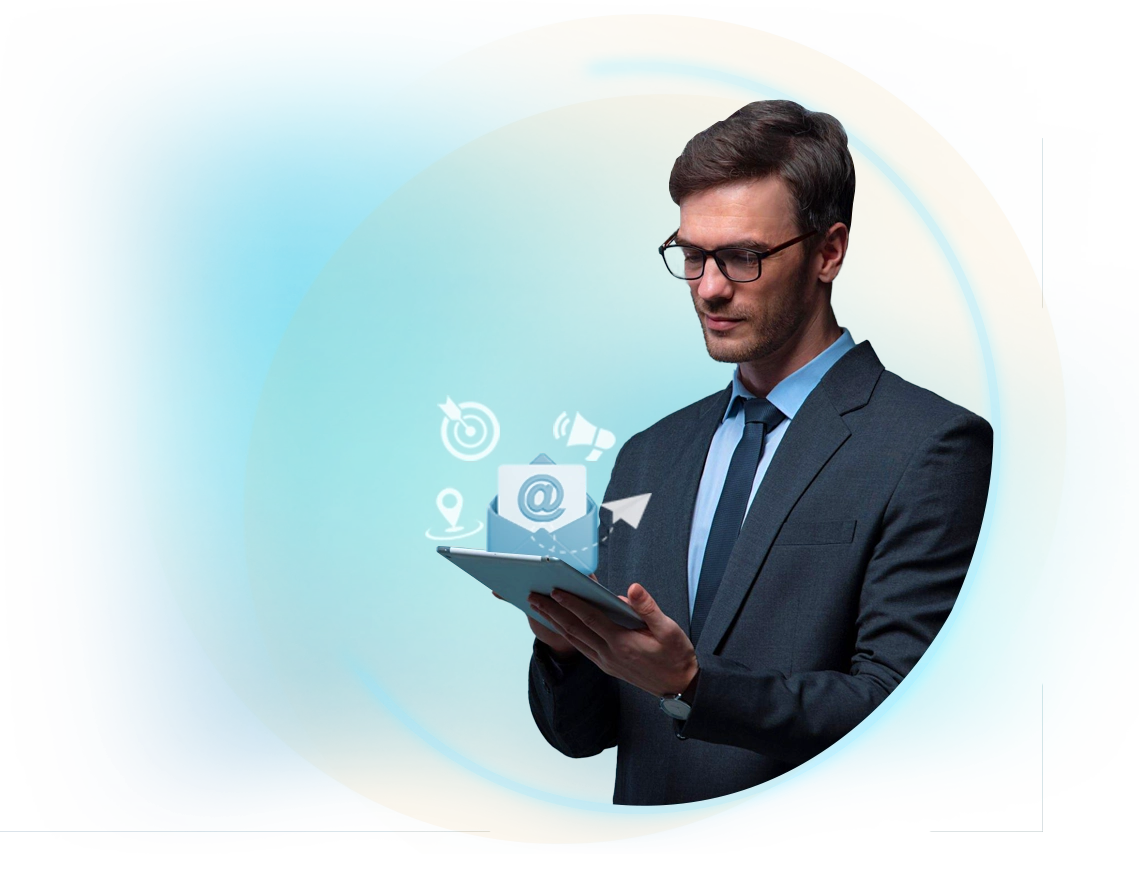 Trusted By Over 4k Organizations To Grow Revenue








Looking for Email Appending Services ? We are here to help !!. With our Email Appending solutions you can add missing records in your database.
Email Appending is the on-demand practice that involves taking customer data such as first name, last name, postal address, or other information and matching it against our repository to obtain the right deliverable email address of the customer.
If you own a email list that is of high significance for your business but consisting of missing fields, send such records to us. We can help you fill the missing gaps in your database with our email append services. With our massive in-house data you can have the access to contact details of millions of executives, professionals, decision makers all over the globe. Our email address append services offers 25-35% match rates and provides email information of multiple titles from SMBs to leading companies to help your email marketing campaigns.
We understand the necessity of B2B marketing repository with the accurate email addresses in it. So, we provide you with the highly sophisticated b2b email data append services that revamp your current customers information in less time and lets you target the right leads at the right time. Blue Mail Media helps you to clear out every error that's stopping you from achieving the desired outcome. We append most suitable email address that guarantee high sales rate as well as higher ROI than you anticipate.
Steps Used in Email Addresses Appending Process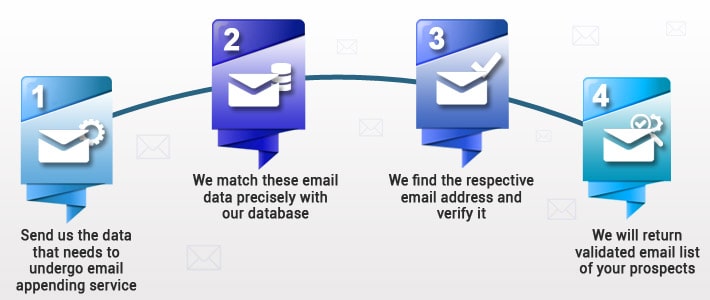 Reach the right prospects at the right time
Our Different Email Append Services Includes:
Customer Email Append : This service uses the customers name, location, phone number, social media  profiles and other details to append the email address.
Business Email Append :  Matching companies name, revenue, business email, social media profile and additional business information to identify the right email addresses.
Reverse Email Appending :  You can get details about prospects such as their name, phone numbers, postal addresses, social media handles, business email and more by using existing emails data to explore the different marketing channels for your campaigns.
The standard industry match rate for the email appending is around 15-20%. Our email append solutions gives the 25% – 35% match rate for the existing email database. With the sophisticated tools and processes, we identify the real-time delivery status of existing emails and append the verified records if it's undeliverable. Moreover, we also help you locate postal addresses and other details of customers using the existing email data. With our reverse email appending, you will not only save time and investment cost but also resources for managing the customer's data.
Achieve Greater ROI With Our Email Append Solutions
Emails of current and potential B2B customers is the lifeline for email campaigns.  With more data, you can increase the chances of gaining more leads and thereby higher revenue. Especially with the more accurate B2B mailing lists, you can easily achieve the desired result.
Our services will help you in this area by adding the missing records to your data which helps you to gain maximum from email marketing campaign. With our Email addresses Appending solutions, businesses can network efficiently with sellers, dealers, and mutual potential collaborators. It acts as a bridge from product testing to reaching out to clients for driving more traffic to the company's website.
Matching Email Addresses to marketing database offers multiple benefits for organizations and not just limited in scope in leveraging client data. Grab the opportunity offered by data append vendors to grow the customer base, expand market presence, improve ROI, and more.
Email Appending – Best Practices
Email appending lets marketers reach the targeted customers in an effective way. However, to make the most out of this service, one has to follow the best practices mentioned below.
The service provider must provide an Opt-In facility for customers to receive future updates.
Database must be cleansed on a monthly, quarterly, or bi-annual basis.
Unlock your marketing potential with
our data insights
All your Queries Regarding our Email Appending Services are Answered Here:
Would you like to speak to one of our consultants over the phone? Just submit your details and we'll be in touch shortly. You can also email us if you would prefer.