Connect with 29k+ Registered Pharmacist, Pharmacist Clinicians (PhC), Community Pharmacist, Ambulatory Care and others across the globe with our pharmacist email list.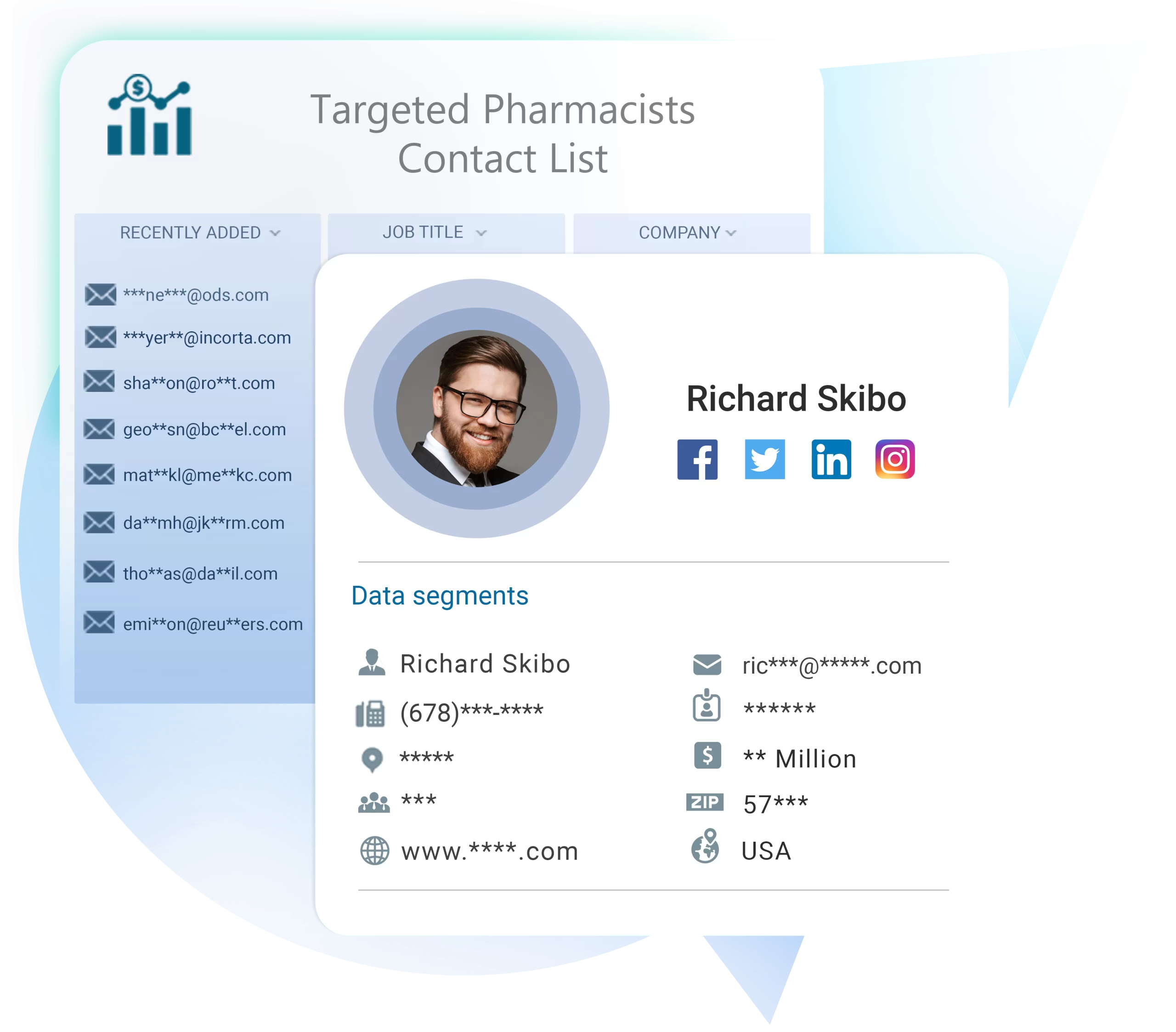 Trusted By Over 4k Organizations To Grow Revenue








Pharmacists, also known as druggists or chemists, are healthcare professionals who specialize in storing, providing, preserving, or using medications. They are vastly connected with several doctors and hospitals and can help any medicine distributor or pharmaceutical entrepreneur expand their business.
At Blue Mail Media, we offer a comprehensive pharmacist email list including information about prospective clients to boost an organization's ROI. Our databases are incredibly detailed and include information segmented in various categories like email, phone number, postal address, etc.
Targeted and accurate pharmacists email list & mailing list from Blue Mail Media gives your healthcare marketing campaigns a competitive edge. Our verified email list helps you reach pharmacists who are willing to buy your pharmaceutical products and form strong alliances with your business. By interacting seamlessly with the right prospects, you can enhance your customer engagement with better communication, stable response rates, and more conversions.
We have a strong network spread across North America, Europe, ASIA, Australia, New Zealand, Africa, the Middle East, and South America. Therefore, you can extend your venture beyond geographical constraints using our quality driven pharmacists mailing list. Moreover, our data is sourced from leading pharmacist associations to offer you with the most exceptional quality of the pharmacist email database. You can rely on our reliable records for campaign executions via email, mail, and telephones.
We only provide top-quality contacts by sourcing data from legitimate channels like healthcare directories, hospital databases, medical forums, etc. If you also want to grow your sales pipeline, get in touch with the Blue Mail Media team.
Why Market to Pharmacists?
Pharmacists are well-connected in the medical sector and among consumers both. If you supply equipment or medicine suitable for a chemist's shop, you must contact nearby pharmacists to reach more people.
With healthcare being such a competitive field, you must adapt to the changing industry trends and expand your professional network. Contact Blue Mail Media via phone or mail for more information about our independent pharmacy email list.
Some of the top sources used to compile data include:
How to Use the Email List of Pharmacies?
Our nurses mailing list and email list will help you contact nurses across various departments of the healthcare industry. Our data will be appropriate whether you want to promote your services or collaborate with them.
Reach the right prospects at the right time
Customize your Pharmacists Mailing List By Speciality
| | | |
| --- | --- | --- |
| Ambulatory Care Pharmacist Mailing List | Clinical Pharmacists Email List | Community Pharmacists Mailing List |
| Compounding Pharmacists Email List | Critical Care Pharmacists Mailing List | Drug Information Specialists Mailing List |
| Home Care Pharmacists Email List | Hospital Druggist Mailing List | Industrial Pharmacists Email List |
| Managed Care Pharmacists Mailing List | Nuclear Pharmacists Email List | Nutrition Support Pharmacist Mailing List |
| Oncology pharmacists Email List | Pharmaceutical Pharmacists Mailing List | Pharmacy Benefit Managers Mailing List |
| Registered Pharmacists Email List | Retail Pharmacists Mailing List | Surgery Unit Pharmacists Email List |
What are Pharmacist Email and Mailing Lists?
A pharmacist email database is a record collection of all chemists working in a given geographical region. These mailing solutions also include complete names, demographics, technology tracking, etc., to help you find the right clients for better B2B connections. Using this data, you can launch multiple marketing campaigns.
Our email list of pharmacist Offers Vital pieces of Marketing Information like below: