Turn your contacts into leads, by matching them with Blue Mail Media's opt-in master database.
Trusted By Over 4k Organizations To Grow Revenue








Fax Appending - Turn Your Contacts into Leads
Fax Appending is the process of appending the most up-to-date fax numbers to the customer's database by matching it with our opt-in master database. Fax (short for facsimile), sometimes also called as telefax or telecopying can be a wonder if added on to your business lists, bringing particular value and even transforming your targeted contacts into a lead. Patented first in 1843, this device is still in existence because of its unmatchable marketing features. Email or direct mails could help you reach the audience quickly, but the chances of messages remaining idle are high comparatively. Fax, on the other hand, helps the businesses to send promotional contents to the intended recipient directly.
Most of the organizations have realized its importance and started considering it as a significant marketing tool. Are you in search of a simple way to include the accurate "fax" numbers to your opt-in database? Blue Mail Media's Fax Number Appending Services can be the right choice. We update your marketing database consisting of missing or erroneous fax records by matching it against every single record in our in-house B2B database. Without depending on any other platforms or services, marketers can instantly send messages to the right prospects or customers with our pre-verified fax data. Our business fax append services
is maintained by an annual survey of each establishment to provide you with the latest and accurate information.
"Be alert and find new customers for your business through our Fax Appending services."
Reach the right prospects at the right time
How Does our Fax Appending Services Work?
Unlock your marketing potential with
our data insights
Our Solutions and your benefits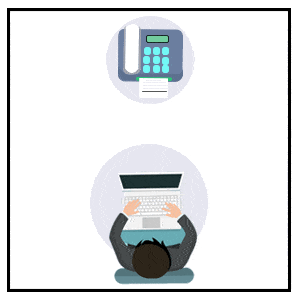 Why Choose Blue Mail Media's Fax Appending Services?
We understand the prominence of prospecting the client with a multi-channel marketing approach, not leaving a single channel behind. This way, businesses can make use of all possible avenues of communication to retrieve immensely higher ROI. Marketers across the globe have already realized that fax as a channel of communication can never be discarded even though the world is moving towards digitalization. Our fax address appending process ensure that your B2B marketing database is up-to-date, accurate, and campaign-ready. You can boost your brand visibility and maintain market credibility by making unsolicited communications with the help of our service. Avail our excellent fax number append services now and update your business database with the highly precise and legitimate fax numbers.
"Choose B2B centric Appending Services to Gain More Each Time."
Would you like to speak to one of our consultants over the phone? Just submit your details and we'll be in touch shortly. You can also email us if you would prefer.