Marketers know that Social Media holds the power to establish and escalate the brand value of their businesses. However, very few perceive the science to use it right as every social media platform is unique and works differently. You can post on social whenever you want but wait, that's not enough!
Some days and sometimes can bring more engagement and more followers.
Let's have a look at the below infographic to know the Best times to post on Social Media: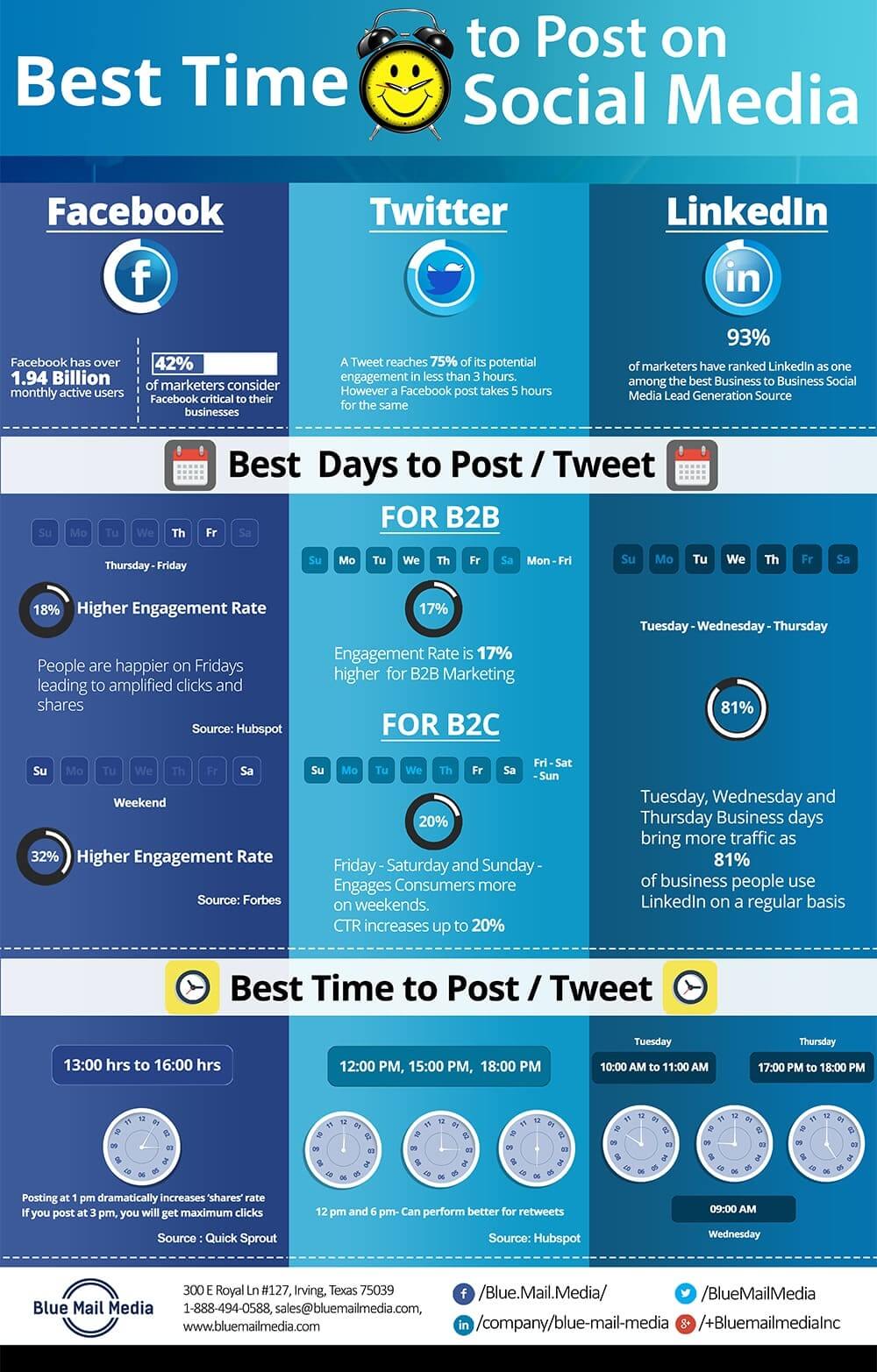 FACEBOOK:
Facebook has over 1.94 billion monthly active users (Source: Facebook)
42% of marketers consider Facebook critical to their businesses (Source- State of Inbound Marketing)
BEST DAYS TO POST: (Source- hubspot.com)
Thursday- 18% higher engagement rate
Friday-
People are happier on Fridays leading to amplified clicks and shares.
18% higher engagement rate
Weekend- 32% higher engagement rate (Source- Forbes)
BEST TIME TO POST ON FACEBOOK : (Source- Quick Sprout)
1 pm to 4 pm
Posting at 1 pm dramatically increases 'shares' rate
If you post at 3 pm, you will get maximum clicks
TWITTER:
A Tweet reaches 75% of its potential engagement in less than 3 hours. However, a Facebook post takes 5 hours for the same!
BEST DAYS TO TWEET:
FOR B2B
Monday to Friday- Engagement rate is 17 % higher for business to business marketing
FOR B2C
Friday, Saturday, and Sunday- Engages consumers more on weekends. CTR increases up to 20%
BEST TIME TO POST ON TWITTER: (Source- Hubspot)
12 pm, 3 pm, and 6 pm- Tweeting on these times can get you higher CTR
12 pm and 6 pm- Can perform better for retweets.
LINKEDIN: (Short Stack)
93% of marketers have ranked LinkedIn as one among the best Business to Business Social Media Lead Generation Source
BEST DAYS TO POST:
Tuesday, Wednesday, and Thursday- Business days bring more traffic as 81% of business people use LinkedIn on a regular basis.
BEST TIME TO POST ON LINKEDIN:
Tuesday- 10 to 11 am
Wednesday- 9 am
Thursday- 5 to 6 pm
To reach the greatest number of your targeted audience, the science of posting at right time is inevitable. Apply these facts; schedule your posts and boost-up sales for your business because now you know that 'timing' matters!