Summer marketing campaigns are the greatest way to promote your products and services. Summer is a great time to release all your creative marketing ideas and drive the attention of the people who are going to the beach and pools to escape the scorching heat.
Without delay, draft a summer marketing strategy that keeps your customers happy all season long. Here are 7 such marketing ideas that can help your business this summer.
1. Make the Best Use of Summer Sales
Customers love sales, and you just might too. Notably, the summer sales spinning around holidays, such as Fourth of July, Memorial Day, and Back to School is the right time for the firms to grow their sales ratio. No matter if prospects are on vacation or amid some gatherings, they will pick up the phone to read your email if it has some exciting news in store.
Leverage this behavior of your potential customers and clients suitably. Send them an eye-catching holiday-themed newsletter that notifies them of events and offerings, and thereby enhances engagement.
Consider this example of summer sales by Gilt. The company releases summer clothing for $25 and also offers free shipping on all the orders above $99. The best part of this sales is a segmented list of offers based on gender.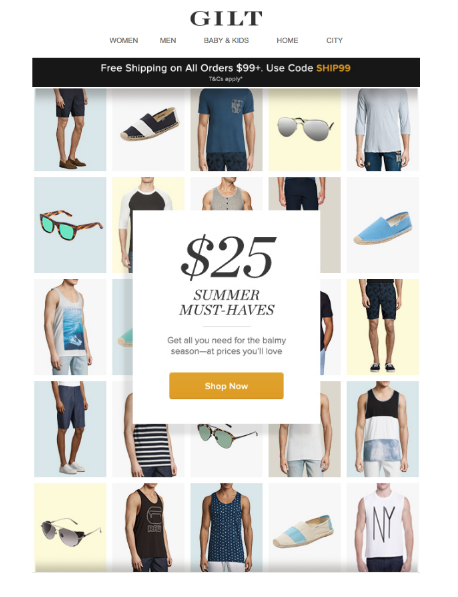 Image Source: Gilt
2. Announce Exciting Summer Offers
It could be your newly launched product or latest features; summer is the perfect time to introduce offers to your brand categories. So, come up with a creative way to target your audience on these sunny days. For instance, create a marketing campaign to give 10% off on specific products if the temperature is over 100 degrees.
With this theme, you can also build a sense of urgency in the minds of the prospects by providing limited-time offers. These offerings are capable of increasing the customer traffic, both online and offline.
Apart from discounts, you can boost customer engagement by launching giveaway programs. Pick some of the items that are worth getting excited about, and make it go viral with eye-catching graphics.
3. Add Seasonal Touch to Your Campaigns
No matter if you are into a B2B segment, add some seasonal touch to your multi-channel campaigns. A pair of shades or extra vitamin fruit juice, pull them all together to create a summer swag in your messages. It could be a subject line – "sizzling summer offer" or your email body with a beautiful beach theme, try to draw your customer's attention before any of your competitor does!
Show your customers you value them by sending a personalized postcard or a letter. You can include the special summer offer, website link to a giveaway program, or other perks.
The email campaign by Casper is the best example here.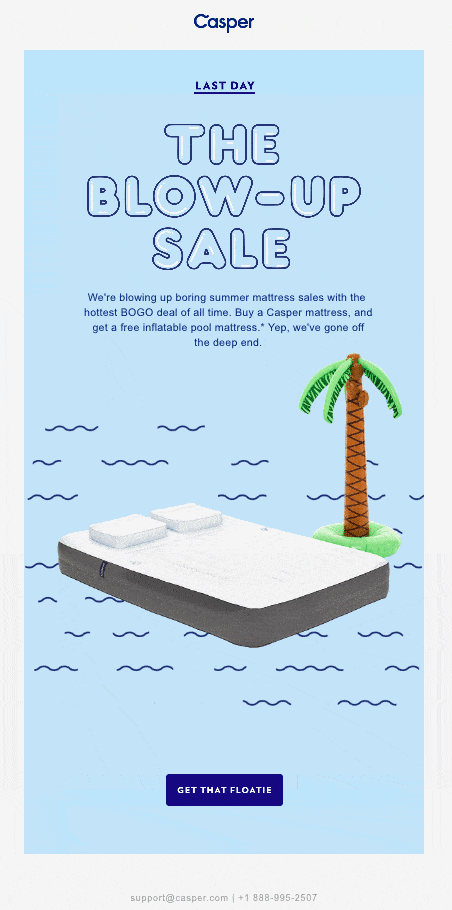 Image Source: Casper
Casper offers a free inflatable pool mattress to the clients who have already purchased an actual mattress. The picture used in this email was on-point, providing the perfect seasonal spin for their brand.
4. Organize Summer-Themed Outdoor Activity
As said above, summer is the right time to put your brand or business out in the market. And, the finest way to do so is by participating in a summer event or organizing any summer-themed program for your valued customers. As schools are out for the season and millennials are enjoying the spirit of sunny days on the beach, you will find a lot more opportunities to connect with them.
The event could be – a flower arrangement workshop, or some delightful summer fair, invite your target audience by sending direct mails or emails. It creates brand awareness and also places an extraordinary chance for businesses to form a better relationship with potential clients and customers.
The Prop Factory utilizes this time of the year to share some beautiful ideas for a summer garden party and wedding using their giant flowers.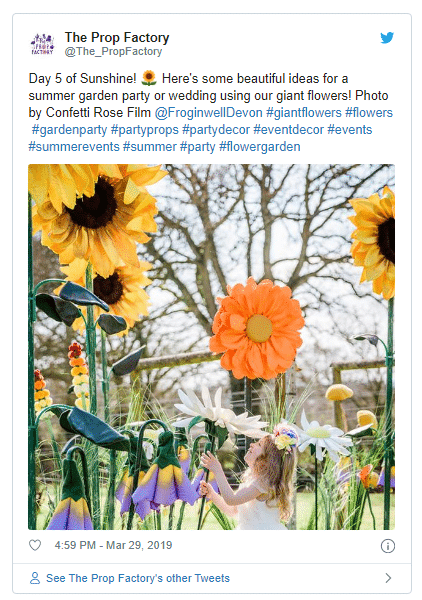 Image Source: The Prop Factory
5. Launch Summer Contests on Social Media
As the audience has more leisure time to spend browsing the internet, social media, and shopping online, you can quickly grab their attention by creating some contests. The ideas for the contest include:
Refer-a-friend: Here, you can ask people to refer any of their friends or family to buy your product, and win an exciting prize on their purchase. This method encourages word-of-mouth marketing.
Photo sharing: You can ask people to share their beach-time photos or any summer-themed pictures, where the best one gets a prize such as discounted services.
Hashtag: Create a unique hashtag for your brand and ask your social media followers to use it to the maximum. This contest makes your brand's profile go viral instantly.
Quizzes: This method can be used to both educate and entertain your customers on their vacation days.
You can come up with some exciting prize ideas for the winners of this contest such as:
Tickets to any of the summer outdoor concert
Dream vacation for a family and friends
Travel themed prizes – plane tickets or hotel stays
Golf classes, greens fees or limited membership to any of the famous golf club
Furniture or camping equipment package
Home or pool-cleaning services for a given period
Lawn care services for a month
A grill or any of the cool outdoor cooking equipment
Consider this example by Georgian Bay. The company asks its social media followers to repost this content with a hashtag #VodkaSmash and click on the link given in their bio to win a bluwavesup board.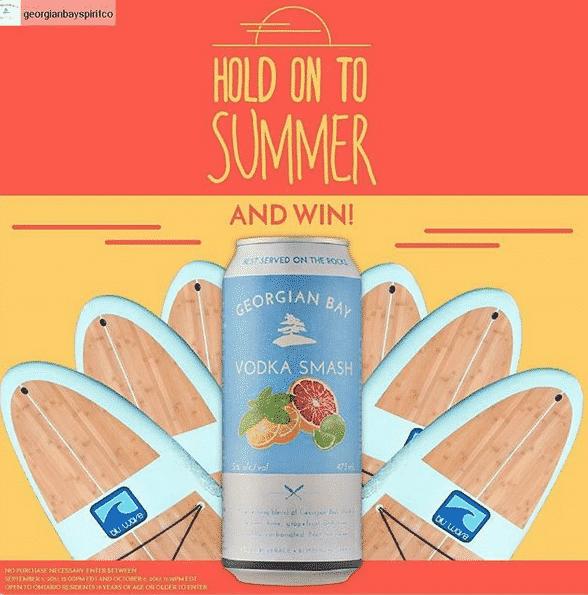 Image Source: Georgian Bay
6. Use Summer Visuals on Your Website
Since the customers will be in the summer mood, you have to use this opportunity to refresh your company website using summer stock photos. A simple update on the site typography, color palette, background, or brand logo can wow your regular visitors and make a whole difference to your marketing approach. You can pick a stunning image or an obsolete graphic or any summer-themed background that works for a variety of uses such as sales promotion or party invitation.
Moreover, if you have any certain products that could be of help to the customers during the summer, please highlight it as much as possible. For instance, if your store's seasonal categories contain sun-protective clothing or waterproof cameras for beach parties, display it with deducted prizes on the home page.
With this approach, you can let your customers know that they are viewing content specific to summer offers, promotions, or events.
Fruute lures website visitors to try their tropical cocktail in summer by highlighting colorful images of fruits on their home page. The company invites people to pick up their culture confections or order online for delivery of food items of their choice.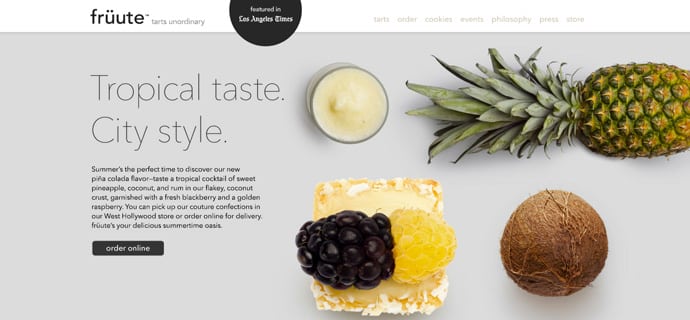 Image Source: Fruute
7. Give Back to the Community
Summer is not just about your business, but also about community welfare programs. So, form an optimistic connotation between your business and the community by offering a part of your success to non-profit organizations such as NGOs, charities, and other local groups.
It can include:
Donating a percentage of your profit or sales
Sponsoring any local event
Creating a standalone event to help the people in need
By following this method, you can impress your customers as well. They will feel contented about their decision as part of their money goes out for local community groups.
We hope the tips mentioned above inspire you to get more creative with your next marketing campaign.