In the age of mass media, most of the marketers are stuck between pleasing the customers and prospective clients. They plan to extend their market size by connecting with as many people as possible to find the right audience.
However, broadcast marketing doesn't work well in this digital era. As an alternative, you can micro-target the audience by their location and other interests rather than sending your promotional content to all. And this is where geotargeting comes to our rescue.
What is Geotargeting?
Geotargeting or local PPC defines the method of displaying unique advertisements or content to the audience based on their location. Some examples of geotargeting includes:
Geotargeted text messages
Promotion ads in local stores
Personalized display ad campaigns
Customized print ads in magazines and newspapers
Custom landing pages
Personalized e-mail alerts
Software with geotargeting features primarily utilizes the website visitor's IP address or ISPs to identify their current region and thereby push forward customized campaigns.
As different regions support different cultures, incomes, and other factors, you can easily design your upcoming promotional content to be relevant to their interest. Moreover, geotargeting consumes less effort to reach the right prospect.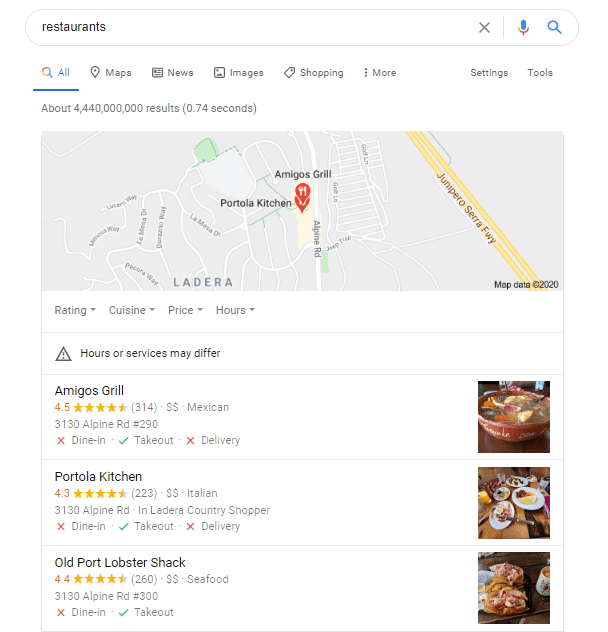 In the above example, Google SERP identifies the visitor's location and provides the list of restaurants nearby, thus supporting conversion.
What are the Benefits of Geo-Targeting?
Some of the advantages of using geotargeting for your business include:
Makes your brand locally relevant
Improves the website experience
Help you optimize advertising returns
Increases the speed of your service
Enhances user engagement
Easy promotion of local marketing events
Keeps your strategic ads hidden from competitors
Prevention of fraudulent website activities
"Geography plays an important role in the marketing mix."
Now, if you are wondering how exactly to use geotargeting for a better outcome, fret not. Below, we've outlined various ways in which marketers can use geo-location to their advantage.
How to Use Geo-Targeting to Boost Website Traffic and Generate Leads?
1. Define Your Distance Approximately
Once you know your target location, start by defining the distance with the geofencing tactic. Geo-fencing lets you precisely define the perimeters around a given area in which your message will be delivered. According to a report from Verve Mobile, mobile ads with geofencing have double click-through rate.
For instance, if your restaurant is just a kilometer away from office premises, you can treat those office-goers as your target customer and send across some offer texts.
Similarly, you can define the perimeter based on time. This could be useful to attract an audience who would like to explore new food items in a restaurant, which is within 10 to 15 minutes of walking distance.
Apart from setting perimeter, you can exclude certain areas where your target audience is not located or will not be interested in going. Excluding locations can be done by a particular street, city, or venue. Exclusion is a cost-effective approach as it helps you avoid spending on people who are least interested in your product.
2. Find a Specific Venue for Targeting
Targeting a specific venue helps you reach specific interest groups. For instance, the customers visiting universities, airports, stadiums, and malls will have different interests, and focusing on any particular group provides you with a significant sales opportunity.
Once you pick the right venue, try learning the customer characteristics to target your marketing. For example, targeting the business people in the airports will be a great source of income for high-end restaurants during weekdays. The same restaurant can focus on leisure visitors during weekends who are looking for casual dining options.
Likewise, stadiums often host fans from different regions and cities. In such cases, you can target the specific age group, such as young male fans to promote your product or services. These examples show how venue defines audiences for targeting.
3. Analyze Customer Preference from Past Locations
Learning the customer's search history and past location helps you deliver location-specific ads, even if it doesn't match their current region. Using this data, you can gain a deeper understanding of a particular individual, such as:
What do they love to buy?
Where do they prefer shopping?
How often they travel for shopping?
With these insights, marketers can easily target customers with relevant and responsive location specific ads.
If a user is searching for some information related to Eiffel Tower or Gothic Notre-Dame cathedral, travel agencies can send them an exciting offer on flight tickets to Paris. If in case, you run a hotel near the place mentioned above, you can use this search history data to deliver relevant and timely content for hotel booking.
Consider the below offer by Hotel Tonight. The hotel uses geotargeting within their app and tells the user that it is a geo-rate. This geo-rate is displayed depending on the location of the app user.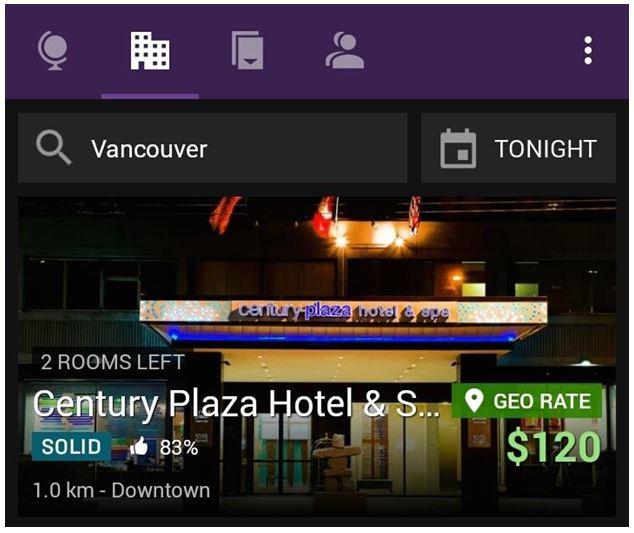 Image Source: Hotel Tonight
The hotel offers exclusive discount and displays the information of rooms getting filled, as the user comes close to the destination.
4. Create Location-Specific Landing Pages
It's essential to come up with location-specific information on the landing page. If in case, the user clicks on an ad, but the landing page isn't customized, he/she will lose their interest and move on to another brand. Therefore, it's important to offer different landing pages for a diverse target audience that match their interest.
Hertz uses personalized landing pages for customers from a different country of origin. The below example is of Singapore division, where the content connects well with the website visitor's culture and demographic.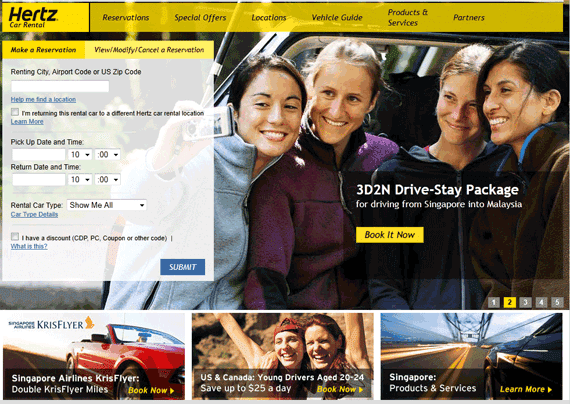 Image Source: Hertz
They have different content, design, and language for the residents of Chile. The image of the Chilean website is shown below.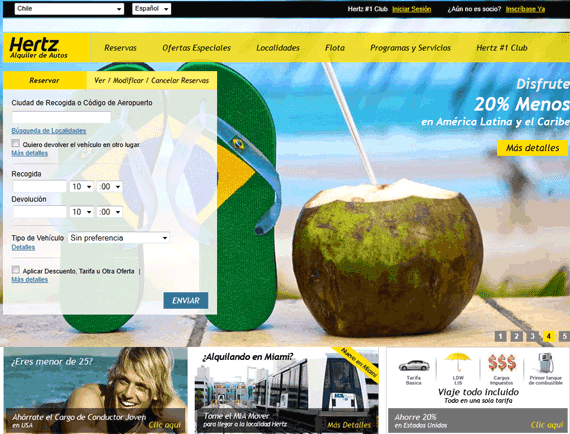 Image Source: Hertz
The creation of unique landing page resonates better with the user's interest. It builds a warm and welcoming atmosphere for a site visitor.
5. Use Other Local Stores for Your Promotion
Along with building a strong foundation for your business, you can also grab the attention of locals by immersing yourself in the community promotion. For example, if your small business focuses on students, you can take the help of any nearby coffee shop or game zone to increase your sales.
Students can bring in a receipt from that particular coffee shop or game zone to your physical store to claim a special discount. This method of local promotion can be extended up to 5 kilometers range. It gets your name out there in the market, and also drives business to the helping store, such as a coffee shop in this case.
Starbucks and Spotify have come up with a similar co-branding strategy called the "music ecosystem." Here, it offers Starbuck access to Spotify's extensive discography and gives artists more significant access to Starbucks consumers.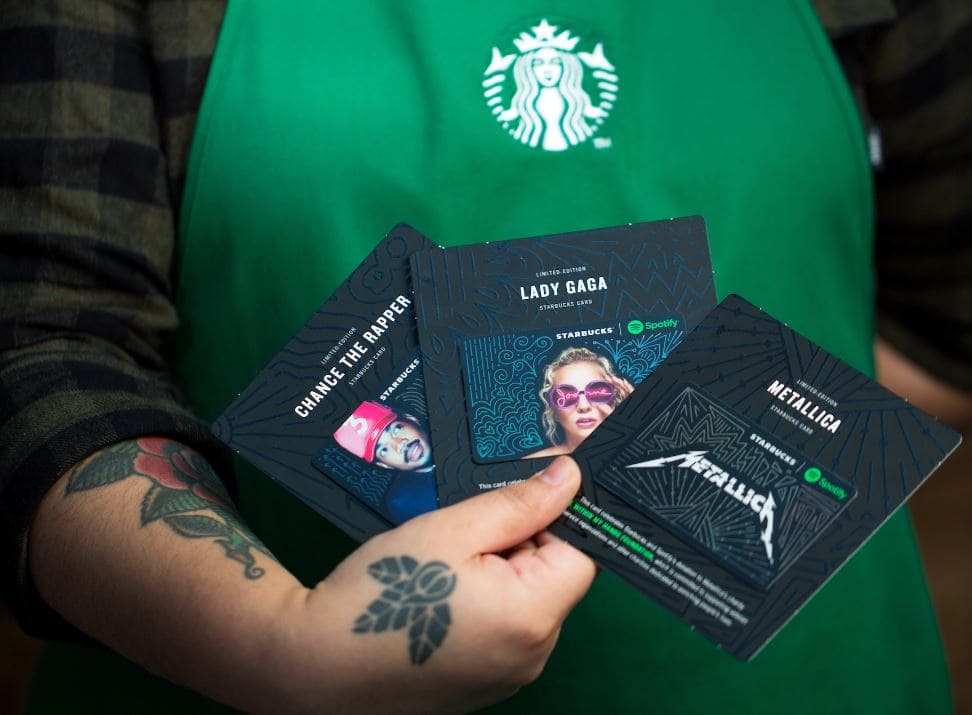 Image Source: Starbucks
Now it's Time to Target Your Customers with Geo-Location!
A website with the geotargeted content achieves higher loyalty with its customer and better page ranking. So, integrate the geo-location into your marketing strategies to obtain valuable information about clients, and adjust your advertisements and promotional content to offer relevant and useful solution.