You're finally ready to launch your new product for which you have worked so hard. The excitement is over the roof, and you want to shout about it to your existing and potential customers. But all the excitement wears off as you get stressed out about approaching the product launch.
If you are looking for the best strategies to introduce your product to the world using email campaigns – Don't worry; we've got you covered.
Below are some foolproof ways to succeed in your product launch email campaigns and optimize your product launch emails for success.
Use The Right Subject Line
When people check their email inboxes, they're confronted with a whole slew of emails that they have to sort through. With all that competition, it's hard to cut through the noise. When sifting through their emails, people will delete things that are not interesting or applicable to them. Emails with enticing subject lines spark genuine interest in people and prompt them to open the email. In fact, it is counted among the best ways to improve open rates and click-through rates.
So what makes a subject line enticing?
Below are three general subject line best practices that you can use to make your emails stand out.
The subject lines should be direct and to the point. Take this product launch subject line from Moment, for instance:

It states the product's name and its latest version clearly. It also shows that the product is progressing.
Use Emojis: In a cluttered inbox, emojis can help your subject line stand out. Emojis can draw the eye, imply a sense of friendliness, and help to increase your open rate. Consider this email subject line by Envato.

It is simple, to-the-point, and contains a party popper emoji, which works well to attract people to see their email. But emojis shouldn't be used excessively in the subject line, as too many emojis will make your email look like spam. If you are unsure about using emojis in your subject lines, it's good to carry out your A/B tests to see what's right for your brand.
Use the right words: Action-oriented words like "great deals," "24-hour giveaway", and "today only" give recipients an immediate incentive to open that email. Consider this email subject line by CW&T, which creates curiosity and FOMO in its recipients and compels them to click the email.
Include An Offer To Combat The Dip In Engagement
However compelling your subject lines and intriguing your email content, the performance of product launch email campaigns tend to drop after the first day or two of the product launch.
It's inevitable, but there's a way to tackle this issue. By switching up your messaging, you can increase the open rate of the whole campaign. Here's how you can do it.
After the initial two-three days of the campaign, introduce an offer of some kind, for instance, preview access to your latest product or a trial offer. This will allow the users to see the value they'd get by signing up.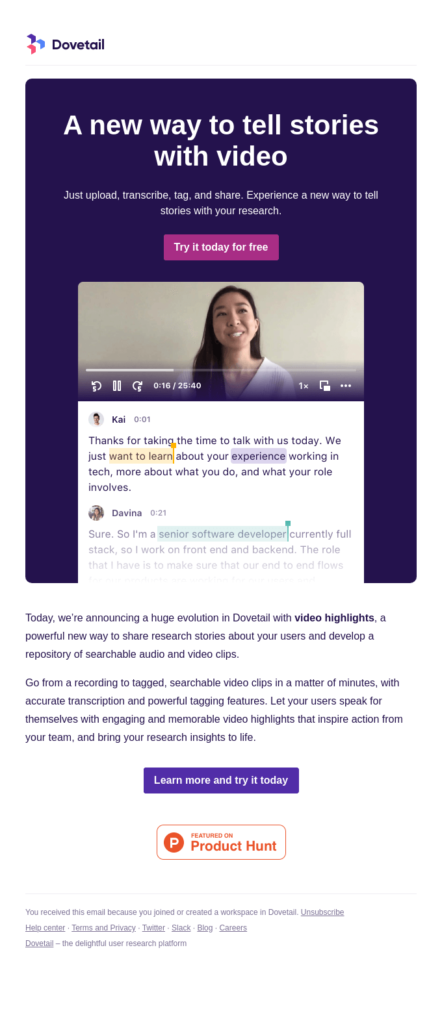 Source: envoke
Offers such as a trial period, a free download, or a preview can help combat the natural dip in email engagement.
Mix Value With Sales Messaging
Although your main aim is to promote and sell your new product, it doesn't mean every email in your sequence should be salesy and promotional in nature.
A combination of pure-value emails with sales-oriented emails is the best way to keep your email recipients engaged.
To understand how to combine value with sales and promotion, here's a selection of some subject lines that you can use as examples:
Here's Our Exact Email List Building Strategy.
The Perfect Solution To Your Dirty Data Problems.
The Solution We Use To Create Compelling Video Content.
These subject lines illustrate how we can offer the readers something tangible while also promoting our products and solutions at the same time.
When you're adding value, you don't want to give away too much. It would be best if you allow your customers to access only some bits for free. At the end of the day, your ultimate goal is to sell your product, so the users will be required to sign-up to access the full solution.
Segment Your Audience
Segmentation of your marketing list is important to drive results from your product launch campaign. Using segmentation, you can gain a better understanding of customer's needs and tailor your product launch campaign to different customer segments.
Segmentation in marketing campaigns can cause a 760% increase in revenue along with several other benefits, which have been represented in the image below: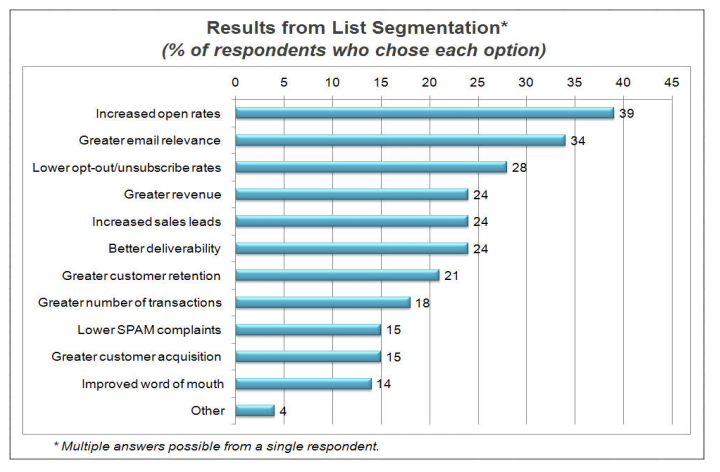 Source:Fulcrumtech
Why? Because people like to be treated special. If you take a universal approach to your email campaign, you risk not resonating with anyone.
When you segment your email list, you can create personalized campaigns for different customer segments, communicate their pain points, and provide a solution that works for them.
For instance, you can divide your recipients into two groups – existing customers and prospects – and built dedicated eight email sequences for each
Repeat Your Call to Action
Great subject lines increase your open rates, but the call to action (CTA) is the most important part of an email for increasing conversions. There should be only one universal type of call to action for each message.
When creating product launch emails, your CTA should link to purchase the new item along with any offers or discounts.
You can drive click-throughs by repeating the CTA throughout the email. For example, if you mention an offer in your email, repeat that message at the beginning and end of the email, just like this example below.

Source:envoke
Also, make sure the CTA is attractive and visually clear so that readers notice it even if they just skim through the email text.
Wrap Up
Product development is only half the battle. How you announce your new product can make or break its adoption. So do your research, learn from successful product launches of other businesses, take a cue from the strategies enlisted above and build an email product launch sequence that is the most suited to do justice to your hard work.