If you have been running your email marketing campaign for even a few weeks, you will probably know why we are speaking about improving the open and click-through rates. Although email marketing sounds simple as it involves only sending emails to people who are interested in your business, it does not work seamlessly as intended most of the time. Marketers face several challenges to increase the engagement on the website exponentially while deploying the Email Marketing Strategy.
The most common challenges include:
– Your email getting spammed, which in turn reduces the open rate of your promotional email.
– Subscribers open your email but fail to click on the call to action (CTA) or any other links mentioned in your email body.
If users are not opening your message or clicking any of the links in it, that means limited leads and sales, which will affect your revenue as a whole. Hence it's essential to make the subscribers want to open as well as read the messages for higher engagement. If you are not sure how to go about improving the open rate or CTR, here are 6 sure-fire ways to do it.
How to Improve Email Open Rate?
1. Compelling Subject Line
Your prospect's inbox is filled with piles of unread email. So, if you want your message to stand apart from others, begin with amending your subject line. A report by Convince&Convert states that 35% of email recipients open your email solely based on the subject line. Also, 69% of them mark it as spam even before opening it. That's why it's crucial to get your email subject line right.
Here are some of the ways to optimize the subject line:
Subject lines should consist of 6 to 10 words (8 is an ideal number) or fewer than 50 characters to deliver the highest open rate.
Create a sense of urgency or excitement using verbs and action-oriented language.
Use an exclusive value proposition (10% off or free goodies) along with time information (only 10 days left).
Personalize your subject line to gain the customer's trust. But avoid overdoing it if you do not want to sound intrusive.
Stop using spam trigger words (Earn Free Cash) to impress the recipients.
2. Send Email from Person and Not Any Brand
People always read the sender name before opening any email. Hence plainly using your company name will do no good in most of the cases. Instead, you can follow a more straightforward personal approach where you can either combine your brand name with the sender name or just include the sender name in the subject line. It makes your message easily recognizable and also aids in improving the open-rate drastically. This strategy is always said to yield a better result. Research by Pinpointe marketing found that usage of a specific personal name, rather than a general ID or company name can increase open rates by up to 35%.
Further, a test conducted by HubSpot to compare a personal name of someone from the marketing team to the generic "HubSpot" sender name discloses the similar outcome.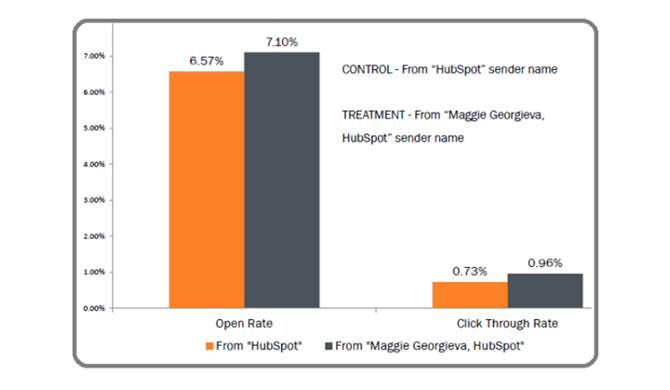 Image Source: HubSpot
This is because people trust a personalized name more than any generic brand name. So, differentiate your content from others by providing a personal touch to your email campaigns.
3. Email within 24 Hours of Sign Up
It is one of the most basic yet forgotten tips in email marketing. If you do not take advantage of the time when your brand is at the top of the subscriber's mind, you will find it hard to please them in your next attempt. Hence, send an email immediately or within a day after any website visitor signs up for your newsletter. The simplest way to do is by setting up email automation which triggers the message the moment someone signs up or shows an interest in any of your listed offers. With this strategy, you can set expectations for the interested contacts and give them a glimpse of the advantage of buying from you.
How to Get More CTR?
4. Appropriate Email Formatting
Right formatting of email message makes a big difference in whether people read your email or abandon it. Also, it makes the CTA button clearly visible no matter where you place it. Let's find out how to neatly format your email content now.
Create Quickly Readable Emails: Think of your email as a blog. Pay extra attention to its content. If it is too lengthy, break it up with subheadings for better readability.
Mobile-Friendly Content: People spend the majority of their time checking emails on their smartphones than desktop computers. So, it is essential to optimize your email for the small screen.
Avoid Including Key Information in Images: Most of the email clients block the image on their email app for faster download. Hence, hiding important information or including multiple images is bad for email accessibility.
Use Right Email Width: By using responsive email design, you can solve this problem. People usually do not like if emails are too wide or too narrow.
6. Short and Concise Email Copy
No one likes to read lengthy emails. Besides, too much content may also make your email end up in the spam folder. It is the primary user behaviour to scan the newsletter by skipping a significant portion of it. A report by Nielsen Norman Group reveals user's reading behaviour in great detail. It states that users process the inbox as well as read the newsletter extremely fast. The average time spent by a subscriber to read a newsletter after opening it was only 51 seconds. And, almost 80% of people are only scanning it. Hence, it is very much essential to keep your email contents short and concise with a higher readability rate.
Here are some of the must-know tactics on how to write short and easy-to-understand email copy:
Straight to the point: Most of your subscribers do not even go through the introductory part in your email. So, do not spend more time on it.
Focus on the Actual Content: Talk only about what your email is intended to do. Avoid too many topics all at once. For instance, if your email is about educating users about a new feature of your product, tell only about that feature and not about other things which they are already aware of.
Make it Easily Understandable: Highlight some critical points in your email body. You can also use images (but do not use many) to quickly convey the important message. Within 51 seconds of fame, make sure you are capable of expressing the message rightly.
6. Include a Clear CTA Button
As mentioned above, people will not read the full copy of your email generally. They will only scan to identify the critical information in it. So, along with reducing your email content, you must also include a clear CTA button that invites the recipient to know more about your brand. The ultimate goal of our email marketing strategy is to increase your click-through rate. By specifying the CTA clearly, you give people an extra boost to buy your product, try your service, grab any free downloads, read the blog, or share it on social media. So, what makes a good CTA?
Use a strong command verb that lets your audience know what you want them to do.
Make use of words that provoke emotion or enthusiasm like, "buy now and get 50% off".
Tell your audience what is in it for them. For example, will it help them do their jobs better, save money, or lose weight.
Tailor your CTA based on the user's device.
Note that subscribers are more likely to click your email if it has just one CTA button. Also, CTA placement plays a vital role. Several studies proved that putting the button on the right corner has increased the click through rate rapidly.
Lastly, do not forget to test everything. The only way to know what's working for your domain and to fix what isn't is to check. So test all your email subject lines, email content, layout, preview text, and CTA. If any other component of email is left out, check that, too.