Law firms are invaluable to society. They help people and organizations with their legal issues and further the public good. But they, too, are not impervious to risks. Competition in their field is fierce, and obtaining a healthy list of clients is important to sustain. It's therefore very important to build brand value with the help of various marketing strategies. Marketing law firms is a bit different from marketing other businesses.
The tips listed below will help you promote your law firm effectively and achieve phenomenal growth in no time.
1. Create a Professional and Appealing Website
In this age of the internet, every business needs online exposure. A law firm is not different. A website is the most basic thing you'll need to start your business marketing campaign. If you still think your law firm can do better with old marketing tactics, here are some stats to consider:
96% of people looking for legal services search for their options online, and 70% of law firms find new cases through their websites.
So, if you don't have a professional website for your law firm, you are missing out on several opportunities.
When designing your website, it's important to have a certain number of major and minor details and features:
Your website should be professional-looking.
Your website should be simple, attractive, and responsive. A responsive website offers an optimized browsing experience to both desktop and mobile users.
The content on your website should be useful, relevant, and of high quality. That said, it shouldn't also be a heap of puzzles that only an expert could decode. The language should be simple, easy-to-understand, and jargon-free.
Include an easy-to-locate Contact button on your website.
A law firm is seen as the protector of law, so make sure, to be honest in all aspects, such as your testimonials, social media reviews, brand history, and online reputation.
Include information about your law firm, such as attorney profiles and their specialization. Provide a glimpse of the experience and success stories of your establishment in a simple yet interesting manner.
2. Build a Strong Online Presence for Your Brand

Once a website visitor reaches your service page, they are going to want to research the following things about your brand:
Things that make your law firm unique. What sets you apart from the competitors?
Your value proposition, as in why should your target audience hire your firm.
The faces behind your brand. The lawyers in your firm need to develop a strong online personal brand, with their own touch-points connected to their names. A good place to start is LinkedIn.
That's why it is so important to establish your brand's unique message and work it into all your marketing channels.
3. Educate People With Value-Focused and Enticing Content
Talking of the content, rather than pitching just marketing messages to your potential clients, focus on educating them to help them make better, more informed decisions.
Creating educational content is also a great way to get your name out there, establish your authority in the law domain and work on your SEO strategy – all at the same time.
Your content needs to be original, interesting, and provide value to your customers.
When deciding the type of content to offer, think about the following points.
Your target audience's interests.
The burning questions in their mind.
Legal information they are looking on the net.
Ways you can help them and provide value.
Below are some ways you deliver value content to your customers.
Legal Blog: A legal blog is a great way to share useful and informative content related to legal topics and demonstrate your knowledge as an expert in your field. You can blog about:
Legal advice on specific areas.
Recent changes in law.
Case Studies.
Step Guides
FAQs
eBooks, Guides, and Whitepapers: They can be about any legal topic. Consider the example below where this legal firm has created a personal injury eBook explaining what to do in case of an injury.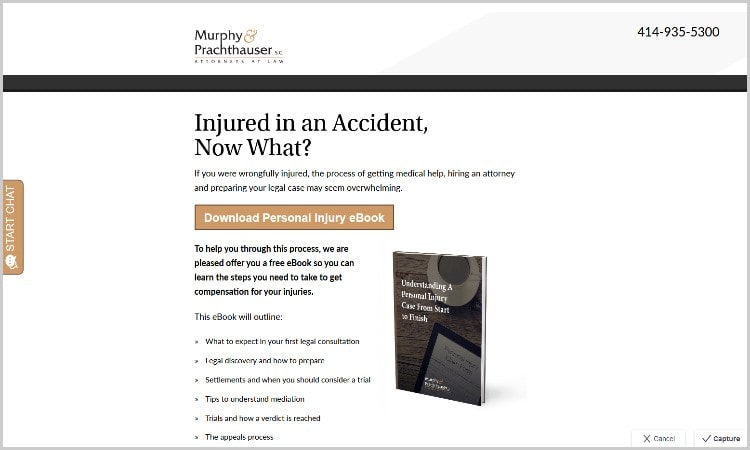 Resource Libraries and free worksheets: You can provide your clients access to a worksheet or complete library of resources in exchange for contact details, like the example below: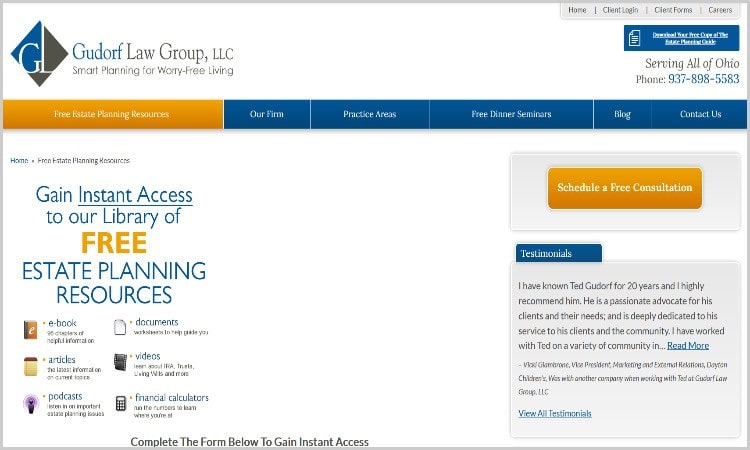 This will help promote your business to people interested in what you do and boost your reputation.
4. Focus on SEO Best Practices
SEO is a great way to stay ahead of the flock and ensure potential clients easily find you. According to the 2019 Legal Trends Report, 17% of people looked for a law service via an online search.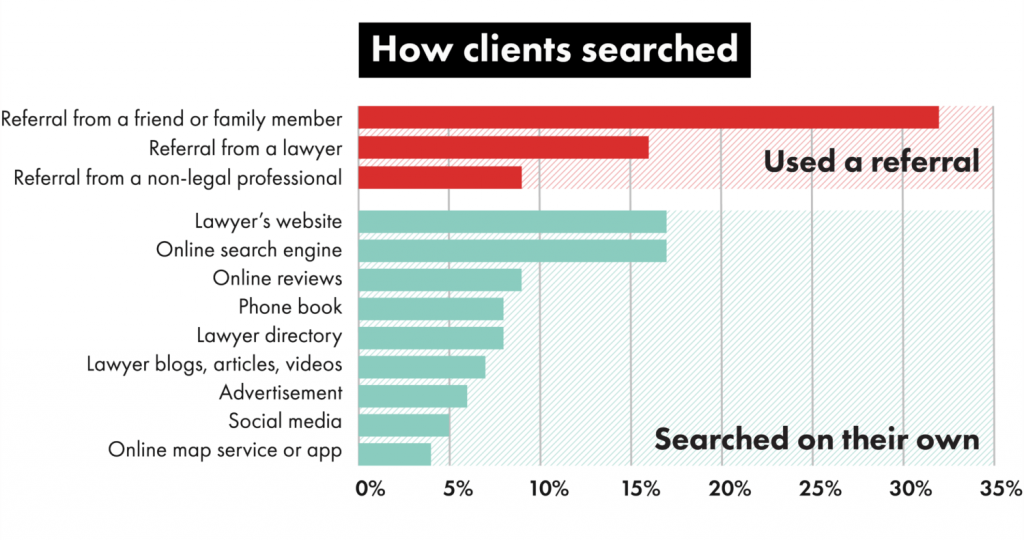 SEO best practices will help your website tremendously when it comes to Google search rankings, which in turn will boost your law business.
A law firm mostly operates in a specific region or locality. Therefore, your law firm should focus on local SEO more. This will bring more organic traffic and ensure a better conversion rate.
5. Take Advantage of Google Paid Search
A perfectly executed paid campaign on Google AdWords can do wonders for quality lead generation. It will provide a great opportunity for your law firm to get found at the exact moment people are looking for help. In addition, you can fine-tune your AdWords campaign based on your target group's needs to reach highly qualified leads.
6. Leverage the Power of Video Marketing
Video content provides a great opportunity for law firms looking to stand out online. It has been found law firms that use videos for marketing experience a 41% increase in web traffic from search engines.
In fact, Google ranks videos higher than websites in some cases.
The first and the best way to get started is to create your YouTube channel, where you can post a series of videos talking about specific scenarios that potential clients may be involved in or specific areas of practice.
Use a short video on your home page, showing what you do and why you do it. Don't forget to include a CTA for the visitors to enter their email addresses.
Video reviews and testimonials are great for building credibility and trust. They put a face to your business and allow your clients to see other people talk about your products, giving an honest, unscripted opinion.
Provide a behind-the-scenes glimpse of your law firm.
Answer Frequently asked questions.
You can experiment with different video formats for your business marketing. For example, some videos will be promotional, and some will majorly focus on giving information to the viewers. Whatever your content, the focus should be on helping people to understand complex laws, procedures and how you can help in different situations.
7. Step Up Your Email Marketing
Email marketing is a highly effective marketing channel for law firms to grow. But make sure your content stands out, and you use email marketing best practices.
A law firm must master the art of creating exceptional email content, which promotes its services while educating the recipients at the same time.
Some of the emails that you can consider using in your marketing campaigns are:
Newsletters:Consider sending your subscribers regular newsletters with valuable information. If you have a blog, provide links to articles on your blog to drive them to your website.
Videos Email Marketing:Let's accept that many promotional emails fail to get any attention from the recipients; unless they stand out. Using videos in your email marketing improves open rates by 19% and click rates by 25% – which are important metrics to master for your email marketing campaigns. Make sure to make your videos short but interesting so that the recipients look forward to receiving more from you.
Offers and announcements: Whether you have an important announcement to make or an exciting offer for your customers, email marketing can be used to communicate this directly to your clients.
Quick Additional Tips Worth Considering
Get backlinks from authority media sites to improve your rankings.
Feature your press releases as content on your website.
Connect with Lawyers to get more exposure of your law firm.
Add a live chat solution to your site to address common clients frustrations. Happier clients translate into better outcomes for a business.
Contribute guest posts to major publications like "The Lawyer."
Wrap Up
Whether through traditional or digital media, law firm marketing can be the key to growing legal practice. There are several strategies law firms can utilize for brand promotion and growth. The above tips cover the main areas you should be focusing on to get exponential growth and success in 2021.