The advent of digitization empowers marketers to reach a wide range of target audiences. Coupled with the power of data, companies can now plan effective campaigns to attract the right prospects.
Today, businesses in different sectors have an expenditure of  USD 2.6 billion for digital lead generation advertising. Notably, this spending will witness a clear ascendency in the upcoming years.
Similarly, lead generation for financial services is not a distinct process. Financial firms need to leverage digital channels and use accurate data.
This blog puts forth five tried and tested strategies to augment any finance agency's lead generation.
1. Create Enticing Webinars and Virtual Events
Financial firms have an abundance of content and information to educate their audience. Hence, such agencies can capitalize on the visual mode of marketing.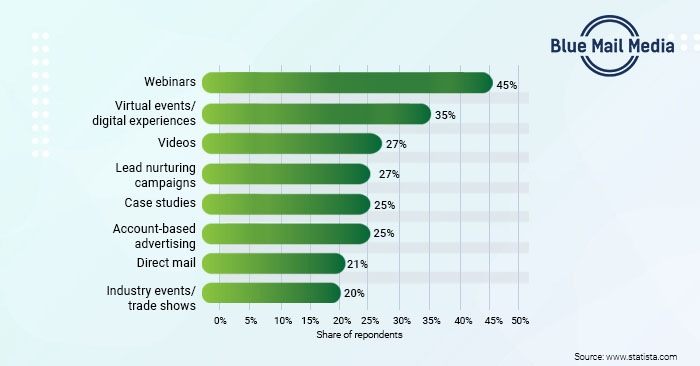 According to a recent survey on Statista, webinars and digital events find the highest effectiveness for lead generation.
Notably, the respondents were B2B marketers working to generate top-of-the-funnel demand. Lead generation for financial services through webinars can include the following topics:
Financial investment sessions
New corporate rules
Discussions on regulation
Real estate economic planning
The options are endless. Marketers can portray the expertise of a financial firm through carefully crafted webinars and events. This tactic leads to brand awareness and the establishment of the company's image as a reliable authority.
2. Increase the Use of Automation Software
Technology can always play a pivotal role in lead generation for financial services. In fact, 80% of businesses use cutting-edge technology like automation software to increase their leads.
Finance services can use the following tools to generate leads:
Chatabox
HubSpot CRM
ActiveCampaign
Drip
GetResponse
Notably, every automation software comes equipped with different functionalities. Finance businesses can use them for email marketing, high engagements, and quick responses.
3. Build a Professional Website
J.P. Morgan is a well-known investment bank and financial services holding organization. Marketers can take inspiration from its official website to generate leads.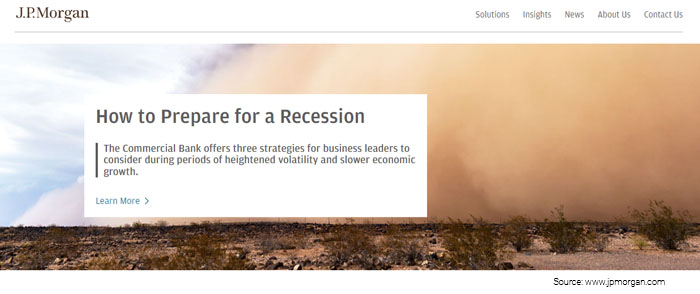 Source
Modern prospects mostly search for financial companies and relevant queries on the internet. With a worldwide search market share of nearly 84%, Google is an essential platform for a company's visibility. Hence, there is no doubt about the potential of lead generation through online search.
A well-structured professional website is crucial for lead generation. Here are some of the essential aspects of such a website:
Easy-to-navigate design
Clean interface
Informative content
Blog section
Contact details
Mobile-friendly version
With over six billion smartphone subscribers, the need to develop a mobile-friendly website is becoming crucial.
To enable effective lead generation for financial services, companies should ensure the following information on their website:
The finance firm's services
Contact information
Team details
Email address
Google Map plugin
Resources
All these facets establish a finance company's reputation on Google. As a result, prospects can browse the website and connect for required services.
Pro Tip: Leverage Search Engine Optimization (SEO)
Simply creating a website for the purpose of lead generation for financial services is not effective. Services should develop their website using the following SEO elements:
Appropriate keywords
Content clusters
Link building
Repurposing old content
A proper SEO-centric website can generate more leads than the pay-per-click (PPC) strategy. In fact, 70% of marketers believe that SEO generates better results than PPC.
4. Leverage LinkedIn And Email Marketing for Geo-targeted Leads
Around 89% of B2B marketers use LinkedIn for lead generation. Financial agencies can use this platform and capitalize on geo-targeting.
Notably, marketers can plan targeted campaigns based on the following aspects:
Location
State
Professionals
City
Country
For this purpose, LinkedIn offers ad features and can sync with existing CRM solutions. Notably, LinkedIn pages are tailor-made for engaging with B2B prospects.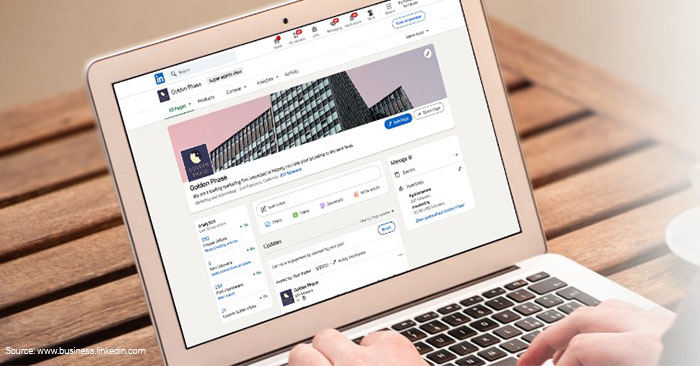 The lead generation for financial services through LinkedIn can also be suitable for engaging with local prospects. As a result, agencies can capture the smaller market and move gradually for business expansion.
Since LinkedIn is a professional networking site, B2B lead generation can reach its optimum status.
Additionally , marketers can use targeted email lists to reach out to various other businesses like Small and Medium Enterprise Businesses, Food & Beverage Industry etc across the globe to pitch their financial services with Email Marketing Campaigns.
5. Capitalize on Meta
Prospects interested in financial services use the popular platform, Meta. Moreover, financial firms can use conversion APIs to analyze the behavior of their target audience.
With a 72% increase in fintech adoption since the pandemic, strategizing lead generation for financial services online is an excellent decision.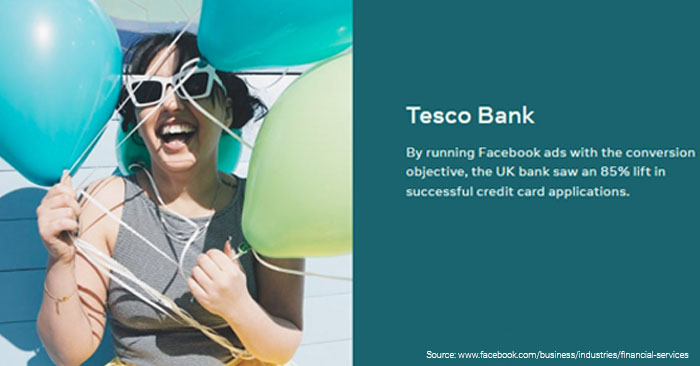 The world-famous Tesco Bank acquired leads through Facebook Ads. According to Meta, the bank witnessed a staggering 85% increase in credit card applications.
In the same way, financial services can target the B2B segment by using the following features:
Carousel
Video ads
Photo ads
Meta pixel
Notably, Facebook Ads can become an effective way to drive an audience to a company's official website. This tactic can prove helpful in lead generation for financial services.
Summing Up
In simple terms, lead generation is dependent on a company's knowledge of prospects. Hence, financial services need to analyze the target audience.
Due to the high emphasis on digitization, creating online strategies for generating new leads is vital. Some effective lead generation for financial services include tactics like webinars, automation software, SEO-centric website, LinkedIn campaigns, Email campaigns and Facebook Ads.
Marketers should understand the changing preferences of prospects, like higher dependency on smartphones. In addition, analyses like the utility of Google, LinkedIn, and an eye for convenience help with effective lead generation planning.