Category: Business Marketing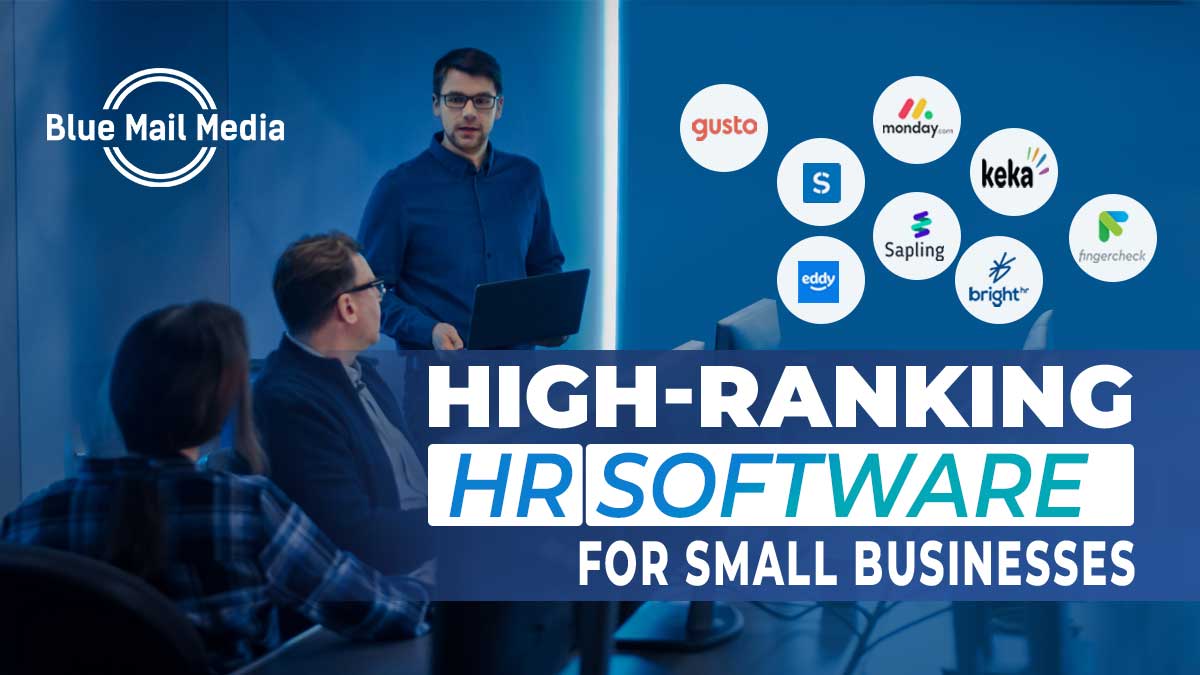 Many small business owners question whether or not they need to invest in their HR departments. This is mainly because strategies supporting business growth and revenue look much more exciting when the company is in its growing stages than HR and payroll.
However, the truth is even enterprises in their fledgling stages need a strong HR presence for reasons ranging from employment law enforcement to hiring and firing. You need to bolster this department for increased productivity, a vast pool of talented employees, receiving workforce insights, and enhancing the employee experience.
Thankfully, HR software for small businesses can help your HR department reach its maximum potential. So, which software is the best in 2022 and why? This guide will discuss that.
1. Monday.com
This HR software for small businesses is mainly helpful due to its automation and customized dashboards and forms. The software's features are divided into broad categories: employee experience and well-being, attracting and engaging top talent, performance reviews, etc.
This software aims to take care of the entire recruiting process, from the time of employee hunt through the onboarding process to payroll management. There are many ready-to-use HR templates, and the software can also be easily integrated with other tools such as Slack, LinkedIn, Gmail, etc.
2. Eddy
This is another HR software for small businesses that is best for local enterprises where the majority of the workforce works remotely. One of the top reasons why small and mid-sized businesses love this HR software is its user-friendly interface.
The interface is clean, and the simple employee portal is easy to understand and access. Coming to its features, you will most benefit from this software if your business is looking to solve HR needs surrounding time management, time tracking, or document storage and management.
Eddy is your no-headache HR software!
3. SnapHRM
This is most useful for firms with five or fewer employees. Also, this software gets the highest rating for its Applicant Tracking System (ATS) and employee management features.
The current features are great, but the company brings constant upgrades in these areas. The tool is pretty comprehensive for small businesses and is still easy to use. If there are drawbacks, the only one is that there's no undo feature. Say, if you ever accidentally deleted an application, you won't be able to retrieve it.
4

.

Fingercheck
According to online reviews, Fingercheck is considered the best HR software for small businesses regarding process automation. The company boasts of offering an all-in-one HR platform that is not only fully automated but is also easy to operate.
Some of the top features of this software include employee self-onboarding, scheduling, HR management and payroll, benefits and insurance, and expense tracking, among others. Being a next-gen software, its interface is intuitive, approachable, and user-friendly.
5. Sapling
Sapling is the best HR software for small businesses if you're looking to scale. With this software, from offboarding to onboarding and everything in between can be easily automated.
The software can also be connected or integrated with other useful tools such as Okta, Paylocity, etc., in order to offer a consistent employee experience. This helps create a solid HR system that not only brings in top talent but also retains them.
6. Gusto
If there is one HR software for small business that is suitable for payroll, this has to be it! This software has a solid client base of nearly 200,000 small businesses worldwide. It was awarded the title "Best HR and Payroll Platform" by NerdWallet in 2022.
Some of the top features of this software include time and attendance, talent management, insights and reporting, full-service payroll, onboarding and offboarding, etc. Now that remote or hybrid working models are commonplace, Gusto will help bring in team 'gusto' by consistently delivering great employee experiences.
7. Keka
Looking for an HR software for small business that is entirely employee-focused? Then, Keka is the one you need! Again, a new-gen HR system, Keka mainly focuses on simplifying complex workflows and enhancing user experience.
The software is not only suitable for very small organizations but also for mid-sized to the ones scaling further. This is because nearly 100-employee companies can use this software freely; its features are scalable.
8. Bright HR
With this HR software for small businesses, you'll be able to score more time for your business' core activities. There are different features or sub-tools within the software itself that helps in delivering a great employee experience and also nurturing them along.
However, one of the most popular features of this software is staff holiday management on the go. This way, you can clearly picture your team for the day to ensure business operations run smoothly.
Parting Thoughts
Nobody likes to be micro-managed, nor does anybody enjoy micro-managing. A self-driven team must be empowered using self-service tools. This is the same principle behind using HR software for small business that can allow your workforce to track and manage their tasks.
For instance – most HR software enables your employees to mark their attendance, record time spent on various tasks, raise queries, apply for leave, and more. Not only that, but even job applicants experience a smoother interview and onboarding.
This way, employee morale increases and the HR department is also relieved of mundane tasks that can be easily automated. They can concentrate their efforts on discovering fun and interactive ways to help each employee reach their fullest potential. So, a win-win, right.