Category: Business Marketing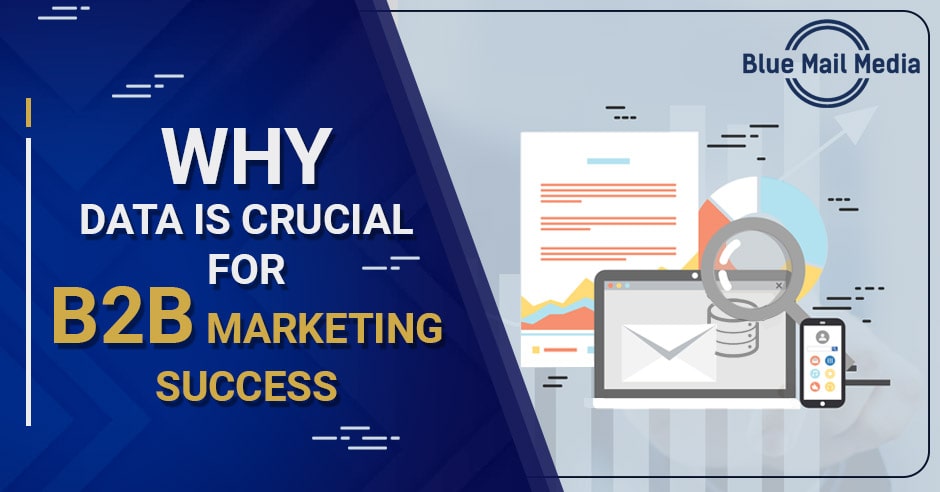 As per Gartner's 2020 survey, growth is the top strategic priority for CEOs of medium and large-sized businesses.

The key to achieving this growth, however, is effectively leveraging data. B2B marketers can exponentially grow their businesses by using data-driven marketing strategies.
When it comes to successful campaigns, initiatives based on data analysis prove to be highly successful. Consider the statistics below:

Source: Superoffice
Data-driven marketing can boost your customer interaction and engagement. Also, data can prove to be a great advantage when it comes to contacting prospects. So it won't be wrong to assert that data is the present and future of B2B marketing.
The evolving marketplace requires data-driven marketing.
In the past year, B2B marketers have adapted to an evolving marketplace, and data has played a huge part in it. Today's tech-savvy online content creators are increasingly using digital demand- and lead-generation strategies. To support such online marketing activities, deep analytics is being leveraged by the marketers to extract as many insights from their data to work more efficiently and smarter.
The market is undergoing massive changes today, and to adapt to these changes, B2B marketers must hone their digital skills and gain deep insights into who they should be targeting.
That's where data-driven strategies will have a role to play but is merely using customer data enough to be successful? The answer is no. Just using customer data can help you stay afloat but to be successful, you need much more than customer data – you need intent data.
Intent data will be the deciding factor in B2B marketing.
Intent Data is fast becoming the future of B2B marketing. It enables businesses to gain deeper insights into the process users go through when looking at purchases. It does so by tracking intent search terms by using cookies and IP addresses. Businesses are notified when their customers are in an active buying journey, allowing them to focus only on the customers ready to purchase.
Types of intent data
Intent data can be either first-party or third-party.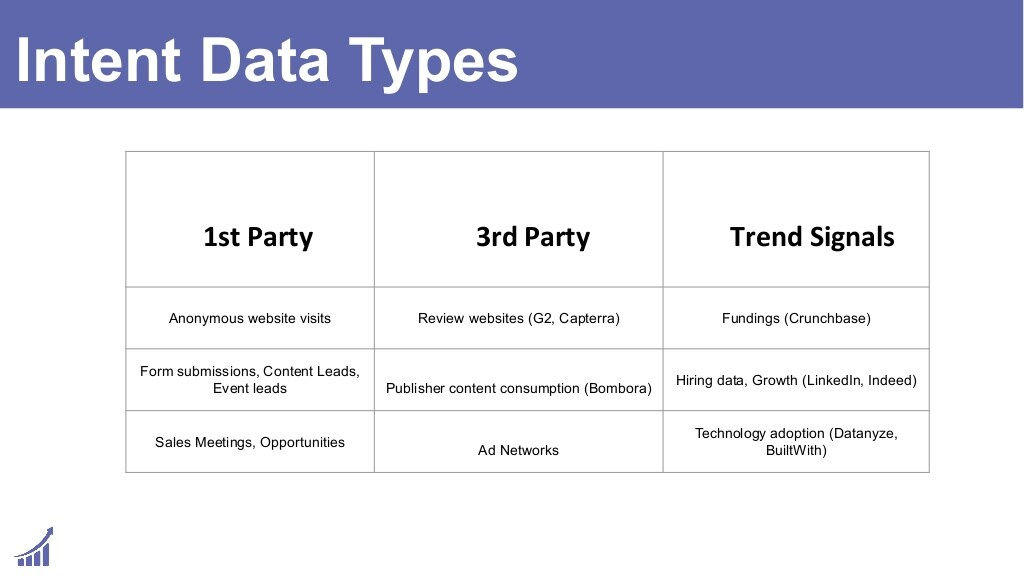 First-party intent data, also known as engagement data, comes from tracking user behavior on your website to gain insight into the customer journey.
Examples of first-party data include:
Data from your website.
Data from your social media profiles
Data in your CRM
Data from surveys
Data from subscription-based emails
Data from reviews and customer feedback.
Third-party data, on the other hand, is collated from sources and websites other than your own; Some third-party tools are – Google Trends, SEMRush, Answer the Public, and social platforms.
How using intent data can improve your B2B marketing strategy?
As per the Demand Gen report, merely 25% of B2B companies currently use intent data. This means if you start implementing intent data in your marketing strategies, you can outperform your competitors who are not using it. Using intent data will benefit your campaigns in the following ways:
Increases Content Relevancy
Intent data allows you to understand what searches users make at each stage of the customer journey. These insights can help you mold your content strategy and deliver more relevant content to your customers.
Boosts organic visibility
Google aims to show the aptest content when a user searches on its search engine. So if you leverage intent data to understand your customers' intent behind the search and deliver content that answers their queries, you will be favored by Google and rewarded with high search rankings.
Increases landing page conversions
Understanding a customer's intent when they land on a page on your website means you can tailor specific pages to match their needs and drive them to the next stage of the customer journey.
Improves the ROI of paid media
Targeting users with ads that match their intent is more likely to lead to a conversion, resulting in a high return on investments.
Why intent data is the future for B2B marketing
B2B purchases often involve multiple decision-makers, each of who have different needs and intents. You can use intent data to understand the needs of each decision-maker and ensure that you can deliver perfect content at the right time and push users along the sales funnel. This can massively increase the likelihood of a purchase decision.
Data-driven marketing is indeed the secret recipe' for success in today's challenging market, but using data in itself can present some challenges.
What are some of the most daunting challenges of data-driven marketing?
Several challenges are encountered by B2B marketers when using data. They include:
Lack of team experience in data handling.
Irrelevant or insufficient technology
Lack of resources or competent resources
Poor data culture in the organization
Lack of data tools
Unclear data ownership and policies
Failure in testing and measuring data-driven success
There could be several other factors, but these factors are the most significant and can affect your overall marketing results.
Tips for leveraging data for enhanced results
The above challenges can be overcome with a holistic marketing approach that prioritizes testing, agility, and improvement over time. Using the right tools and resources will also be the differentiator for success.
Below are some additional tips that should be kept in mind to avoid or alleviate data-related challenges:
Gather data from only reliable sources
Focus on data for persona-based marketing
Invest in data that helps personalized communication
Focus more on data collection, inventory of data, and analysis
Develop a more data-focused company culture, where each department is aware of the necessity of data
Find patterns within the firmographic and demographic data and use them to your advantage
Conclusion
Data-driven marketing has been an upward trend, and today data has changed the way marketers spread the word about their products. With so many marketing tools available today than ever before to enable marketers to gain useful insights through data analysis, it's the perfect time to be a data-driven B2B marketer. Using data is the key to higher lead generation and becoming a successful B2B marketer in today's competitive business world.