Category: Business Marketing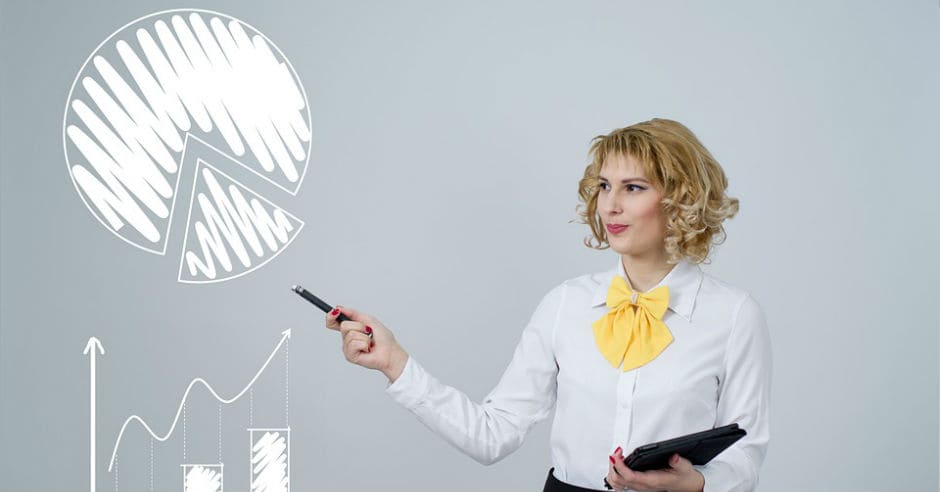 The vast array of data has submerged the internet for the past few years. But to run your business or any marketing campaigns, these data may or may not be of any help. For any meaningful forecast, you need to have high-quality data that saves you from relying on guesswork. So, how do we get this rich data that has the potential of improving the ROI with no much effort? It is where the concept of data enrichment comes into play.
Leads leave digital trails everywhere with every comparison they make and every site they visit. Hence it is hard to get hold of quality data online. Data enrichment services help you to have more exceptional control over these data thresholds, letting you decide what's relevant for your market centered on real-time analytics of your campaign fallouts.
But most of the marketers do not see the desired result as they make some common mistakes while fusing this service into their business operation. We have highlighted those mistakes in this blog, so you can avoid it in your next campaign if you are one among them.
1. Guesswork
If you want to lay a firm basis for your business operations, you should stop guessing your audience and the way to treat them. Predicting the marketing strategies with no firm knowledge will lead you nowhere. Although such tactics were a part of the traditional marketing approach, it is proven not to work as expected in recent years. Hence instead of trusting your instincts, trust the analysis process.
Collect your customer's behavior pattern and study them in depth. We assure you that the right CRM data enrichment service helps you in this aspect and ease your pain of planning the marketing tasks in a limited time. It also guides you in tracing where you might have gone wrong while executing the current strategy.
2. Unclear Picture of Market
An excellent data enrichment service adds clarity to your marketing tasks and cleans up the mess. But, before picking any such services, you must have a clear picture of your target market. Otherwise, the effort, as well as money invested in the service will never serve you well.
Although it might look bizarre, some firms are still unable to identify their target market and losing their brand reputation quietly. They have to realize that assuming the target market will distract their focus and does no good for their status. So, one needs to know precisely to whom should they market and how to segment the data wisely.
3. Incomplete Database
CRM data enrichment works better when you have a large set of an accurate database of your prospects. Knowing too much about your audience will help you in multiple aspects, including campaign execution, and personalizing the promotional content. It also prevents you from creeping into false conclusions about your target market.
Some might disagree with this remark since the huge database may consist of irrelevant data in it. But for your surprise, these unrelated data reveal an odd pattern of your market. It helps you to tap the missed segment that needs more care and thereby expands your marketing edge.
4. Irregular Formatting
This problem occurs when you have a bigger team working on diverse tasks but relying on some shared data set. In such a scenario, you can adopt any standard format for all your database to avoid random issues in the future. That is, regular uniformity will keep your file updated and also usable in the long run.
Once you make use of the proper format for your database, the CRM data enrichment service can quickly identify the left-out audience when you were busy concentrating on others. Also, it helps you in appending the right information of the prospects which is revived later to keep the database intact.
5. Negligence of the Cleansing Process
Data decays at a flying speed than you expect. It rots on an average of 30% in a year, hence refreshing the list would have a substantial impact on your business success. Otherwise, you will end up chasing the wrong leads which thereby drops your brand value. Take a look at this Radius Business Graph report which highlights how data decays significantly after three months.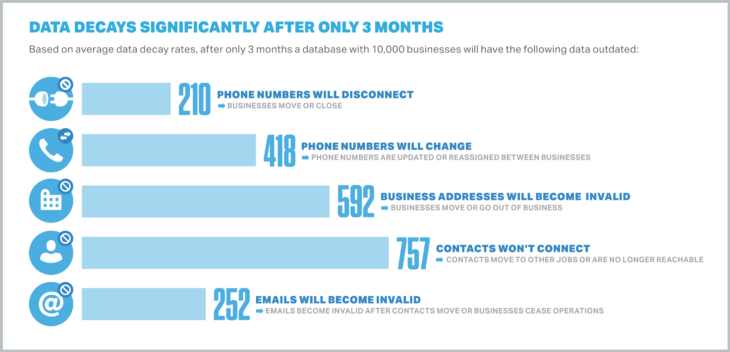 It tells on average only 70-75% of CRM data are correct. So, you have to pay more heed on the data cleansing process if you do not want to miss the opportunities in this highly competitive business world.
6. Choosing a Wrong Vendor
Most of the marketers fall prey to wrong vendors. They promise to offer you the extensive database at a less price. But have you ever thought how useful that data is? Or how it benefits your firm? If not, make some time to learn it now. Picking the right vendor who can append as well as provide the correct data is crucial for the advancement of any firm. Such vendors will help you in polishing the data from CRM which is relevant to your target market.
So, pick the right vendor who offers the right service and also assures of refreshing it periodically to fill in the gap. It will significantly enhance your campaign ROI.
Conclusion
Data enrichment services offer you the right data for your market. And, this data is accepted everywhere since it is capable of producing higher response rate which is a sign of uprightness for marketers. They can use this enriched data to find new market opportunities and channelize the marketing approach effectively. Since the quality of data plays an increasingly important role in the success of marketing campaigns, you must avoid these mistakes and make data enrichment as your primary preference from now on.