Know How a Legal Nurse Consulting Agency Increased Their
Marketing ROI by 286%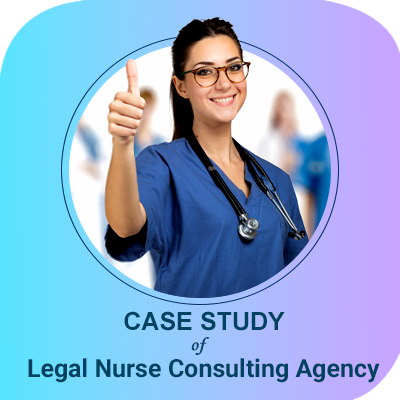 EMAIL DELIVERABILITY RATE
GROWTH IN BRAND AWARENESS
AN ASTOUNDING EMAIL OPEN RATE
INCREASE IN ANNUAL ROI FOR THE MARKETING AGENCY
The client runs a legal nurse consulting agency in the United States and offers services like merit review, a chronology of medical records, fact summary reports, and IME/DME attendance. The client, based in Pennsylvania, has more than a decade of experience in providing attorneys with timely, competent, and cost-effective guided assistance with medical malpractice, personal injury, product liability wrongful death, personal and catastrophic injury, long-term care, drug and alcohol, medical malpractice, Elder Care and Abuse, pediatric care and more.
The client found themselves in an unanticipated situation when they started their initial rounds of email marketing campaigns targeting attorneys all over the United States. Here is a list of challenges they faced:
The client approached Blue Mail Media to improve and purge their contact database so they could restart their marketing operations. The client specifically requested a well-defined list of American attorneys with expertise in a variety of legal areas, including wrongful death, dog bites, slip and falls, medical malpractice, personal injury and more. Here is the solution we offered:
By gathering all of this information, the agency could create marketing plans that would best meet their client's needs.
Just a few months into employing our solutions, the clients achieved unheard-of results. "To say the marketing effort was a success would be an understatement for such a huge accomplishment, thanks to Blue Mail Media." said the company's Chief Marketing officer.
Among the most notable accomplishments are:
EXPLORE THE COMPETITIVE ADVANTAGE OF MARKETING INTELLIGENCE WITH BLUE MAIL MEDIA
Would you like to speak to one of our consultants over the phone? Just submit your details and we'll be in touch shortly. You can also email us if you would prefer.