Small Business Owners Email and Mailing List
Reach SME Entrepreneurs, Business Owners, Local Businesses Service Providers, Executives And More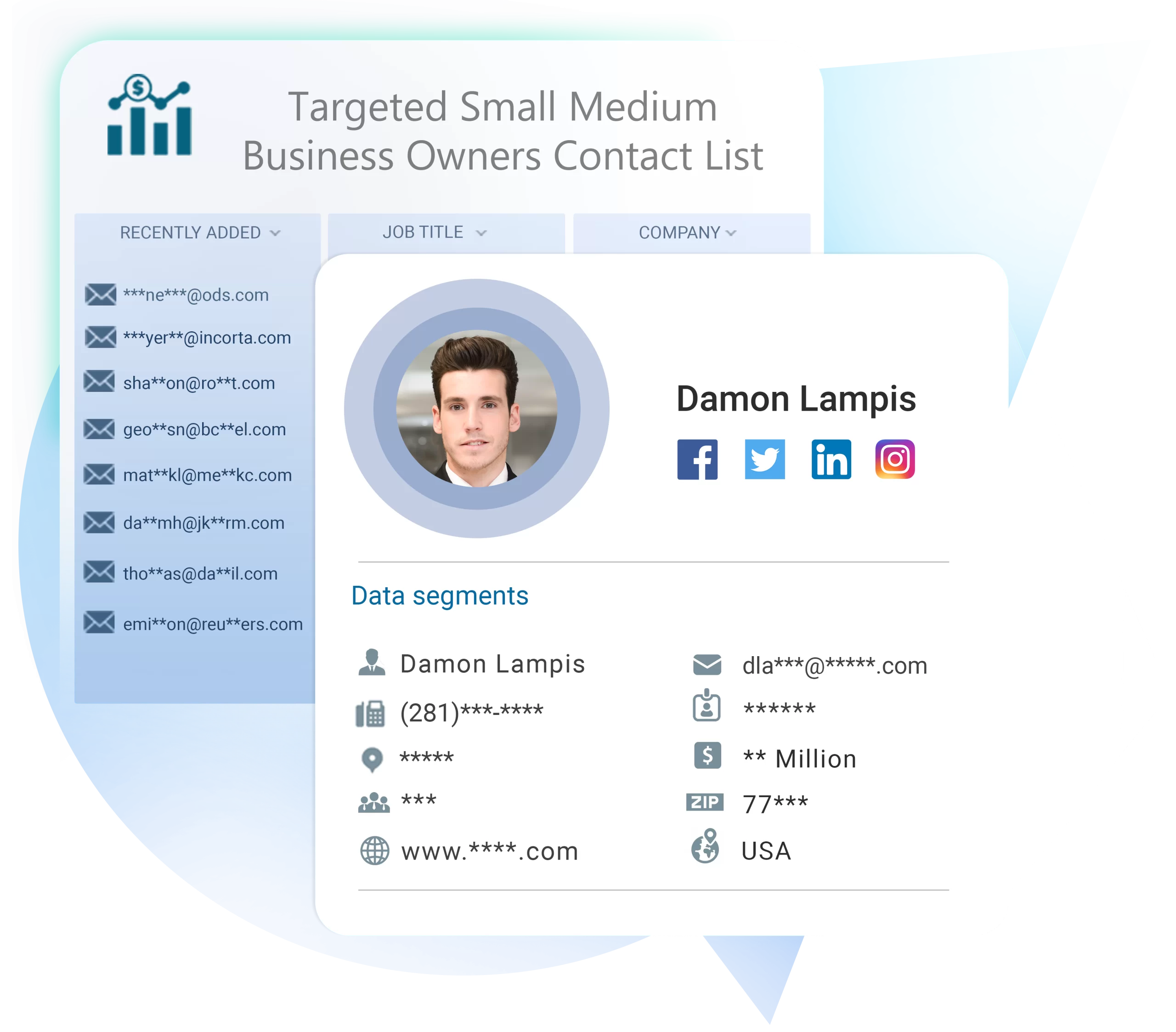 Trusted By Over 4k Organizations To Grow Revenue








Small Business Owners Database
Reach Top Decision-Makers with Small Business Email and Mailing List
Our small business email list and mailing lists can help you unlock seamless connections with key decision makers, B2B professionals and influencers in wide-ranging SME businesses. We provide a highly authentic small business owners email list that are gathered from reliable public sources. So, businesses need not worry about wasting money or effort chasing the wrong leads anymore.
If you're considering growing your business by interacting with local and international small and medium-sized enterprises to generate revenue, you are exactly where you need to be! Blue Mail Media provides the most up-to-date and authentic small business mailing list with 20M+ prospects from all around the world. Our business owners list includes potential small business leads from various industries, including technology, construction, manufacturing, hospitality, real estate and more. With our business contact list, you can reach out to prospects who can impact organizational decision-making such as C-suite executives, mid-level executives, and personnel.
There are a plethora of companies that provide leads of small business owners. However, having the highest quantity does not mean it will get you potential leads. If you want to reach out to your target audience and turn them into potential prospects, you need updated and verified database of small business owners. Our email list of small business owners are updated regularly so you can be sure that you're always reaching the most current small business owners.
The small and medium businesses hold a large share in the global trade map. The sector which was left under served for many years has now been looked at as an ocean of opportunities. Blue Mail Media's list of small business owners can be a great strategic resource for sales and marketing teams looking to market the products, solutions and services in this highly rewarding SME market.
Our small business sales leads helps you to easily target local business owners across the USA. Our accurate local business owners list ensures your marketing campaigns sees increase in response rates, and ultimately, more leads for your business.
With our accurate local business email list, you can run multi-channel marketing campaigns and reach your audience via email, phone, direct mail, etc. Our SME lists are highly customizable so that you can narrow down your target audience.
Verification and Validation of our Small Business Leads
Our data experts gather the data ethically from legitimate sources, making sure all the collected data is compliant with data privacy laws. To validate and verify the small business contact database our experts employ a unique technique to maintain the activeness of the contacts.
Our specialists conduct 1 million verification calls and 8 million verification messages to check the activeness of the data gathered; Yes, our verification process is Ai and human-powered, ensuring the most accurate SME data in the market.
Here are some of the sources we use to gather our data:
Blue Mail Media's strong data partners network spread across USA, UK, Canada, Europe, North America, APAC and other regions around the globe enables us to serve global clients in a local way. Our team of data scientists, experts and researchers put immense efforts in collecting data from all the reliable sources and verify data for its accuracy on a timely manner. This helps us in keeping our email lists for small business free of errors and up-to-date. Reasoned to the same, our clients realize greater response rates, conversions and greater communication with their target market.
Reach the right prospects at the right time
Customize your Small Business Owners List in the Below Industry Verticals
Create Hyper-personalized Marketing Campaigns With Small Business Email List
If you are looking to reach the right prospects from the huge pool of small and medium-sized enterprises, you will need to narrow in on your prospects. Our customizable email list of small business owners helps you narrow in on your prospects so that you can create a hyper-personalized marketing message that will get you the clicks and open rates. Our well-segmented small business email database goes beyond the basic geography and demography, allowing you to fully zone in on your prospects.
Our data professionals segment the small business leads, allowing marketers to harness the data for their specific marketing needs. We include the following segmentations: