Accelerate Your Business Growth With Verified Manufacturing Industry Email List
Get in touch with professionals and top decision-makers from the manufacturing industry with the help of Blue Mail Media's Manufacturing Email List. Here are some USPs of our manufacturing email & mailing list to help you understand our offerings better:
Trusted By Over 4k Organizations To Grow Revenue








Manufacturing Industry Email List
Find targeted manufacturing industry prospects for a surge in conversion rates with manufacturers email database
Do you wish to nudge your marketing efforts in the right direction for higher ROI? If so, then Blue Mail Media's Manufacturing Email List can help open up new marketing avenues for you. Our up-to-date and comprehensive manufacturers database comprises 1.5M+ contacts of professionals across all manufacturing industry verticals.
This includes C-level executives, managers, engineers, executives, IT decision-makers, and other key players in the manufacturing industry from all over the world. Our manufacturing companies contacts can help you market to various parts of the world such as the UK, USA, Europe, APAC, North America, and so on.
Furthermore, Blue Mail Media currently caters to more than 4K organizations, to whom it offers full freedom to customize their Manufacturers Email List. Our team of data experts will look into your marketing needs and collate a customized manufacturers list tailored to your specific needs.
This list will offer information across multiple channels, including direct mail, email, telemarketing, and so on. As a result, acquiring our contact list grants you abundant targeted manufacturing leads for higher conversions
Get in touch with Blue Mail Media and get ahold of customized manufacturing/manufacturers email list to close in on marketing success.
Connect To Manufacturers With Wide Variety of Contact Fields Offered By Blue Mail Media
At Blue Mail Media, you can avail of a fully customizable Manufacturers Email List to access contacts that cater to your niche marketing requirements. Our well-segmented Manufacturers Database contains abundance of contact fields which gives marketers the freedom to switch between marketing channels seamlessly.
To give you a better idea, here are the various contact fields that come with our manufacturing email list:
As you can see, our manufacturing email database covers everything including company size, location, revenue, industry type, and so on. You can leverage this contact information to connect with genuine prospects, effectively generate verified leads, push brand awareness ahead, drive sales, and so much more.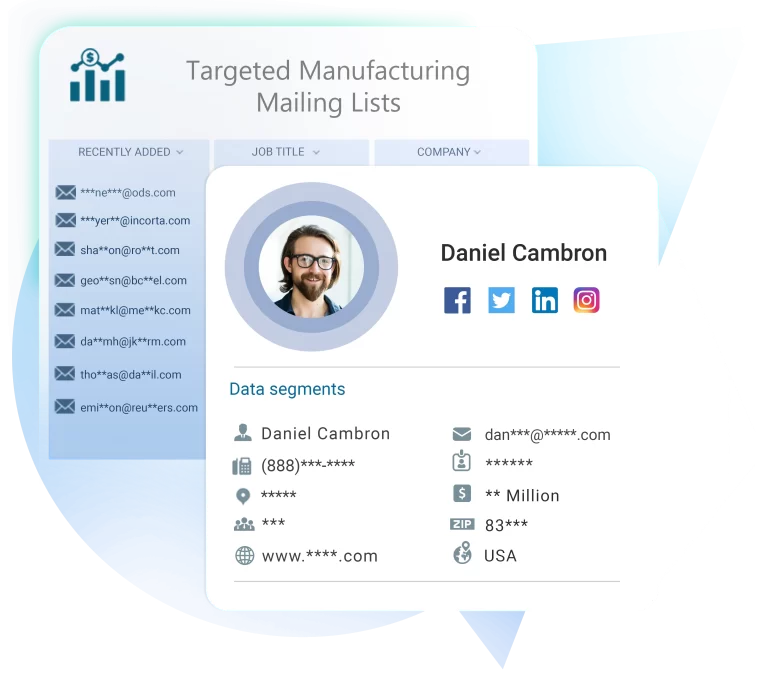 Customize manufacturing email database By Industries:
| Industry Category | Total No of Counts |
| --- | --- |
| Agri Products Manufacturers Email List | 450,120 |
| Aircraft Designing and Engineering Mailing List | 95,660 |
| Chemical Products Manufacturers List | 381,440 |
| Construction Material Manufacturers List | 3,490 |
| Consumer Goods Manufacturers | 345,237 |
| Electronic and Electrical Products Mailing Database | 225,450 |
| Furniture Manufacturers Mailing List | 25,345 |
| Glass and Clay Manufacturers contact list | 17,560 |
| Leather Products Manufacturers  | 12,620 |
| Machineries and Equipment Manufacturers List | 11,250 |
| Wine Manufacturers Email List | 7,520 |
| Auto Parts Manufacturers Mailing List | 710,336 |