Use Blue Mail Media's industry-specific, pre-built industry email list to have productive business discussions with key decision-makers. Utilize our accurate and authorized contact database of industries, including tourism, aviation, real estate, construction and more to market your product and services.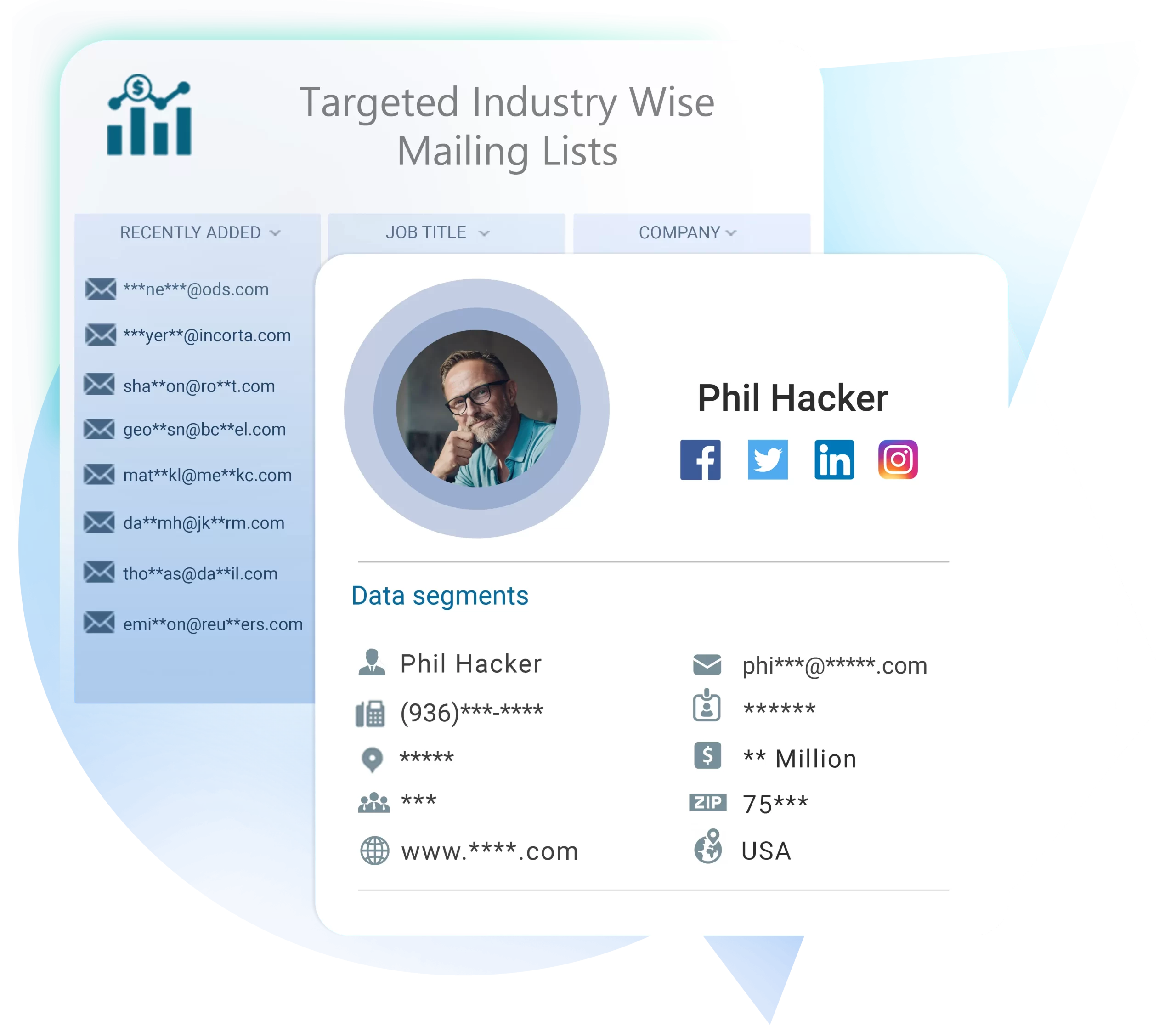 Trusted By Over 4k Organizations To Grow Revenue








Broaden the scope of your business with Industry Specific Email lists
Is your prospecting hitting a snag? Expand your prospecting boundaries beyond the traditional range of prospects with Blue Mail Media's industry specific email lists. The industry contact list from Blue Mail Media is a collection of the most updated B2B leads and highly responsive repository of decision-makers, experts, and professionals from various industries around the world.
Our industry email list is more than just an email list; it is a strategic resource! Businesses can leverage our industry list to reach out to prospects from around the world, including the US, UK, Canada, Australia, and other regions. The industry wise email list is updated every 90 days, ensuring a high response rate. Additionally, the list of industry is customizable and can be tailored based on the requirement of the client.
 The industry mailing list adheres to all major data privacy laws, including the GDPR and CCPA. Moreover, CAN-SPAM compliance ensures that you are not flagged for spamming, especially when your team is on a marketing campaign spree.
Well-segmented and customized Industry wise email database
A well-segmented industry email database can help you plan your sales and marketing activities for a specific pool of prospects. With Blue Mail Media, you can avail targeted email lists from industries such as IT, Healthcare, BFSI, Manufacturing, Real Estate and many others. Also, our team of data analytics, industry experts, and researchers put in immense efforts to keep our data repositories rich and qualitative.
Data fields added to the industry email lists can help clients to narrow in on their prospects. In addition to segmentation, the mailing list gives you gives you the liberty to choose selects per your campaign objectives. The list of industry considers factors beyond location and demographics to identify the best prospect.
For instance, if you want a customized industry email and mailing lists based on a specific SIC code but lack the required facts about your prospects to execute a marketing campaign, BlueMailMedia can assist you with curating an extensive mailing list of your prospects that will guarantee you results.
To give you a sense of our industry email database, below is a list of data fields that we provide to help you target your prospects:
Our Targeted Industry Email List Includes: