The global Food & Beverage (F&B) sector saw healthy growth over the last ten years, and it is expected to continue. As a proof, the Statista report estimates that revenue in the Food and Beverage Industry will amount to US$18, 968m in 2019 and grows to US$27,760m by 2023. This Industry is one of the prominent areas in the business space with a significant number of loyal customers.
The more you meet the ever-changing preference or taste of the consumers, the more you can retain them. But to do so, one has to continually improve their marketing game and sustain their rank in the highly competitive world. So, what do today's customers want from this industry?
Consumers today are obsessed with the sense of exploration and always on the hunt for experiences. Hence Food & beverage operators must work progressively to satisfy the needs of the customers with the maintained quality and personalized offers. It isn't the end. We listed ten dominant Food & Beverage Marketing Strategies with examples that one must follow to build a strong, loyal customer base and improve revenue. Take a look at it.
1. Brand Positioning
The first and foremost criteria or requirement to boost your sales in Food & Beverage industry is to create a good brand image and position it permanently in the minds of the consumers. But before moving forward with brand positioning, you need to understand several other factors.
Do you know your target audience as well location well?
Do you have enough resources that make people aware of your product?
Are you targeting the whole market or only a part of it?
These are the few basic things one need to learn before spending time on brand positioning in the market.
2. Product Packaging
Customers usually judge the product by its package. Hence you need to concentrate more on this aspect to appeal the users. The product packaging includes-
How you pack your product, its design, and color.
How you design your brand logo and present it on the menu and other places.
Logos will have a significant impact on your consumers. Hence use it well in places such as business cards, brochures, advertising materials, digital ads, menu, table, and cutlery. Also, you can include them in your offer products that remind the user of your brand every time they view it.
Hire any professional designers who can help you in designing a perfect logo for your brand which is customized as well as convenient to use in various places without modifying much.
3. Revamping Your Brand Image

Image Courtesy: Holidays & Observances
The demands or needs of your consumer undergo frequent changes in a short period. Hence to stay updated with their interest, the Food & Beverage industries must revamp their brand or product once in a while. Reinventing your brand includes-
Changing the logo or color of it to give it a fresh feel.
Making regular changes in your advertisement or campaigns.
New packaging to match the interest of the current generation.
The inclusion of new trends in the market to keep your customers updated.
Utilizing innovative ideas or creative designs to stand apart from competitors.
4. Email Marketing
Email marketing is one of the traditional methods whose values still prevail in various industrial segments. You can use this strategy in your Food & Beverage Marketing by collecting the email listings of current and potential customers. Later you can create a weekly/monthly/annual schedule to send the relevant posts to the customers via email.
You can send them one or more emails regarding your new product launch, offers, events, or coupons to keep your customers engaged and informed even when they are not using your service.

5. Blogging
Online blogging has its importance in almost every industry. In the Food & Beverage segment, you can implement this strategy by creating an own blog on your website. You can then integrate it with your social media platforms for higher exposure. It is one of the easiest as well as the best way to improve your brand value in a shorter period.
Additionally, you can also partner with food bloggers or influencers with hundreds of thousands of followers online. You can ask them to write or review your product and post it on their blogging websites. This technique helps you to reach to a large number of people quickly with no much effort.
6. Partnering with Other Brands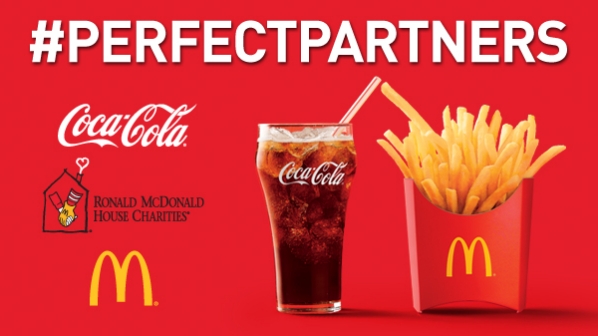 Image Courtesy: The Coca-Cola Company
Associate or partner your brand with other popular brands to gain the trust of the consumers. For instance, McDonald's partnered with Coke to promote their product to a large number of audience. You can do it by simply highlighting their product in your marketing campaign.
7. Creating Statement with USP
USP or Unique Selling Point of any product is what sets it apart from the other brands. A perfect statement with USP imprints a brand image of your product in the minds of the consumers permanently. Most of the organizations use this to market their product to the customers by primarily focusing on the value they provide to them.
Besides, investors also consider this factor before investing in your brand. Hence you must show it in your package as well.
Steps to Write a USP for your Food & Beverage Product
Understand the overall goal of your organization and also your target audience.
Identify your customer's problem and explain how your brand can solve it.
Determine how different your solution is for the customers.
Make a promise to your customers.
Creating the best USP may take several tries. But once you identify the perfect one, make it an integral part of your marketing strategy.
8. Hosting Events
Your customers will love it! Host any food festivals or occasional events at your restaurant at least once or twice in a year. You can invite your potential customers, loyal users, investors, and partners to this event by offering them special packages or discounts. You can make use of fliers, posters, and also advertise it online to spread a word about your brand.
9. Seasonal Offers
This tactic goes well with or without organizing any event. Who does not like to receive offers on the food they love? Everybody does. Hence provide concessions on the food menu once in a while to procure a significant number of customers to your business. You can either give seasonal discounts or offers for no reasons.
Customers will come to you automatically with their family and friends if they see an offer board in front of your restaurant. But always be wise while selecting the offers. For instance, give discounts on coolers or drinks during the summer along with other food items.
10. Social Media Marketing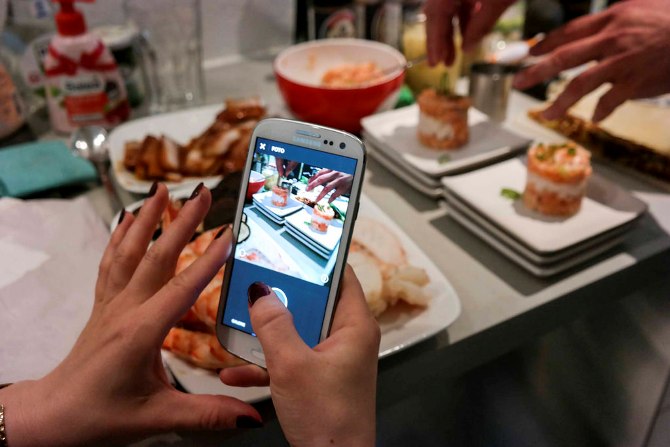 Almost everyone knows the impact of social media channels on the company revenue. Most of the famous and top companies out there utilize the power of social media apps and its features to stay connected with the people of the current generation. It is the most accessible platform to showcase your product to the millions of the customers and also encourage them to do same.
That is, you can ask your loyal fan base to post pictures of the food or beverages of their choice on the social media handles and promote the product to their family and friends circle. You can also reward the customers for supporting your product on your behalf. Besides, you can also ask them to review your product and post it online.
All these measures build trust in the minds of the consumers without actually spending much of your energy into this task.
Bonus Tip
You can list your business in online portals or directories such as Food Panda and many more to make yourself readily available to the customers. By giving marginal commission to such websites, you can sell your product or boost your brand value with their help.
Wrapping Up
There are multiple new opportunities to market your brand in the Food & Beverage segment. Right from catchy headline to impressive packaging, one can use various strategies to sell their product to the customers. But understand the interest as well as the behavior of your potential consumer before proceeding with the tactics or reinventing your brand.