In today's digitized world, buyers are in full control of what they want from the company and how their product should look like. Therefore, one cannot simply sell their product to the leads acquired. As per a recent study by Marketing Sherpa, around 73% of leads are not ready to buy in the initial stage.
In fact, earning the business of high-caliber B2B clients takes time, and that's where lead nurturing strategy comes to play. If you did not know,
Nurtured leads can generate a 47% higher average order value (AOV) than other leads that aren't nurtured.
Nurture emails are known to have a 2x higher open rate than other messages.
Brands have improved their win rate on nurtured deals by as much as 20%.
The above figures from the Annuitas report state the importance of lead nurturing for B2B marketers, especially those looking to build stronger relationships with the clients and generate higher revenue.
What is Lead Nurturing?
Lead nurturing is a process of strengthening the bond with the leads who are currently unwilling to buy from you, but could be an ideal customer in the upcoming days. The goal of nurturing sales leads is to spread your brand message to the prospects, educate them about your products/services, and build trust to spend on it.
How to Integrate Lead Nurturing Process into Your B2B Marketing Mix?
1. Get to Know your Leads Better
B2B lead nurturing is about sharing targeted, valuable, and relevant content with the audience to stay on top of their mind. To do this, one needs to know their leads better, such as their interests, demographics, geographic location, online behavior, etc. You can get these details by:
Asking your prospects and customers
Training sales team to get those data
Mining in-house records to learn the previous customer characteristics (both the best and worst)
Conversing with customer service representatives
Monitoring the target audience's activity on social network
After collating these data, marketers can create personas that mirror with prospective customers.
2. Begin with Personalization Tactic
Every lead is different. Therefore, you cannot nurture all of your leads with the same content. Instead, you have to segment and group the list by more defining traits such as their,
Age
Gender
Job Title
Industry Type
Department
Location
Interests, etc.
Segmentation ensures that the email you deliver is more relevant to the subscribers and produces more clicks.
HubSpot Academy sends personalized emails to let certification-holders know their current course certifications that need to be renewed and the new ones that might help add to their credentials.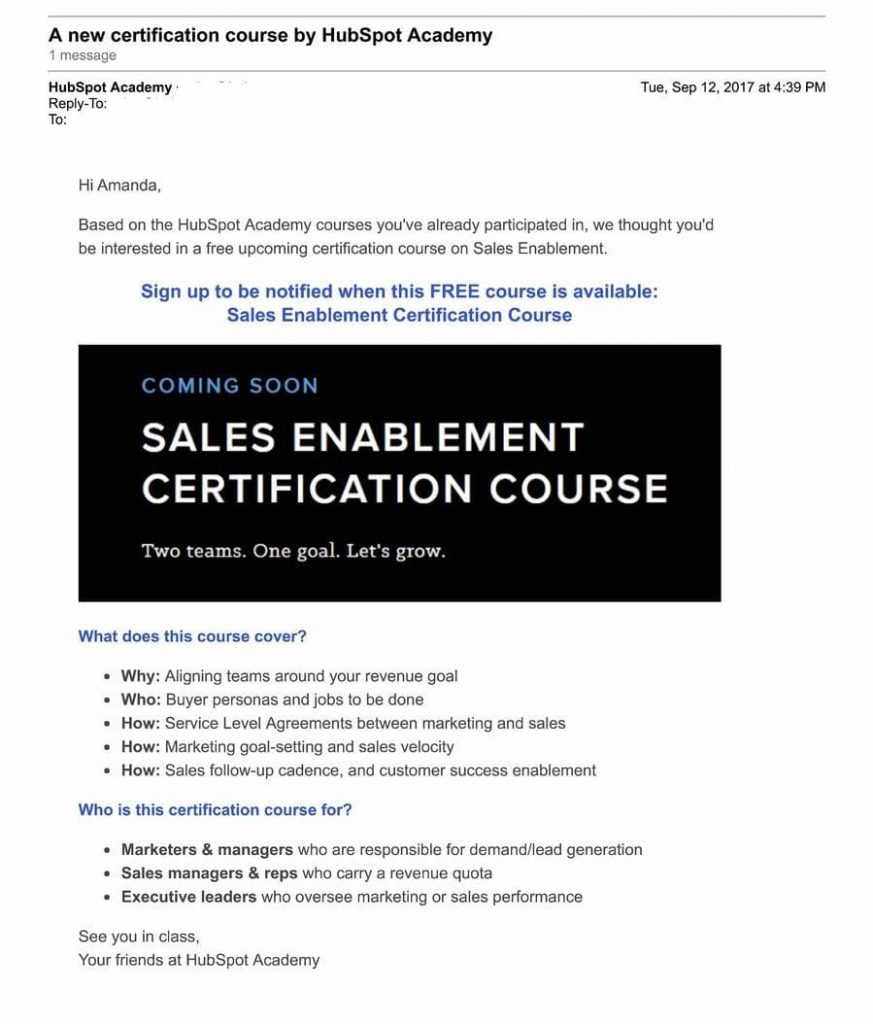 Image Source: HubSpot
3. Don't Forget to Educate the Audience
It's essential to educate your prospects and tell them about their needs in the current stage of their journey. You can educate them by sending lead nurturing emails at different phases, such as:
Awareness phase: Send them blogs or articles about their interests, the current trends in the market, and relevant industry statistics.
Consideration phase: Invite the prospects to your company events or webinar, where you showcase your product, possibly demonstrating its usage.
Decision phase: Talk about previous success stories, product reviews, and ratings.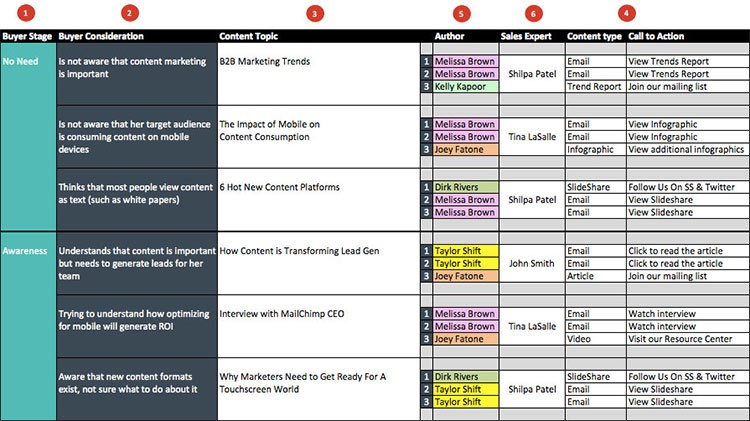 Image Source: Shape and Sound
If you are still not sure about the type of content to send, fret not. Just analyze your prospect's online behavior, such as:
Their previous downloads
Product pages visited by them
Their discussions on the social media platform
Compare these details with the old prospects to develop hypotheses on what they need to know next while moving towards a purchase.
4. Consider Customer Pain Points
Customer pain points denote the problems faced by your customers and how your products/services resolve them. If your lead nurturing procedure fails to take this into account, it will undoubtedly result in losing your prospects. The easiest way is to question them directly about the most significant challenge they face related to your product or service you offer.
For example, if your B2B brand sells coir products or roofing materials, you would likely target interior designers in your locale. So, you might ask them this question: "What is the biggest problem you have with existing materials?"
Once you know their pain point, you could create the content around it to resolve it at the earliest.
5. Measure your Performance
Measure your B2B lead nurturing process to determine if your efforts are worthwhile or not. However, before beginning, identify the right metrics that tie to your business goals. For instance,
Measure brand search or direct traffic to your site if you want to know your brand awareness level.
Track the steps utilized to grow your database from lead nurturing efforts to understand the lead increment rate.
Measure the conversions over time and how many prospects have turned into sales to enhance the lead quality.
Always measure the number of leads you acquire, the number of leads handed over to the sales team, and the final leads that enter the nurturing program.
Wrapping Up
Now that you know the importance of the lead nurturing process and various steps to implement it. However, most organizations still do not consider this procedure due to its complexity. That is, the lead nurturing process takes time, requires a lot of dedication and hard work within the organization. But, its result is worth the effort, if executed appropriately. So, without delay, start integrating this significant tactic into your marketing mix, and stay ahead of your competitors.