Hospitality Industry Email List
Reach out to and interact with over 450k+ highly responsive contacts in the hospitality industry all around the world to increase your business revenue. Promote your product and services to prospects from restaurants, motels, inns, event planners, cruise liners and more using Blue Mail Media's hospitality industry email list.
Here are some benefits you can expect to receive from our hospitality industry email and mailing list:
Trusted By Over 4k Organizations To Grow Revenue








Hospitality Industry Email Database
Unlock Business Growth With Our Hospitality Email List
Are you a service provider and want to tap into the potential of the hospitality industry?
Then Blue mail media's hospitality email list is the go-to solution for your business. With 100% accurate and ethically sourced contacts of top decision-makers and professionals, our hospitality email and mailing List will help you generate genuine hospitality business leads with higher conversion probabilities.
The hospitality industry is valued at 4,107.60 billion $ in 2022 and is expected to reach 9,950 billion $ by 2028. Blue Mail Media's hospitality industry email list offers service providers seamless access to thousands of hospitality management companies.
Our expansive hospitality business mailing lists is accurate and customizable to suit your business needs. With data cleansing and updating done every 90 days, our ready-to-use data is the best choice for multi-channel targeted marketing. You can reach hospitality prospects worldwide, including major economies like the US, UK, Canada, Australia, and other countries. As our hospitality leads list span multiple channels, it strongly impacts how your business achieves its marketing goals.
Roll out your marketing campaign with Blue Mail Media's hospitality email database today! 
Well segmented and customized hospitality industry mailing list
A well-segmented hospitality industry mailing list can help you better target the specific set of hospitality prospects with your sales and marketing plan. Data fields added to the mailing list for the industry can assist clients in focusing on their prospects accurately.
Moreover, the customization option of the email database of hospitality helps you zero in on your prospects even more, using additional data fields.
Here is the list of data fields that we add to curate our hospitality business mailing lists: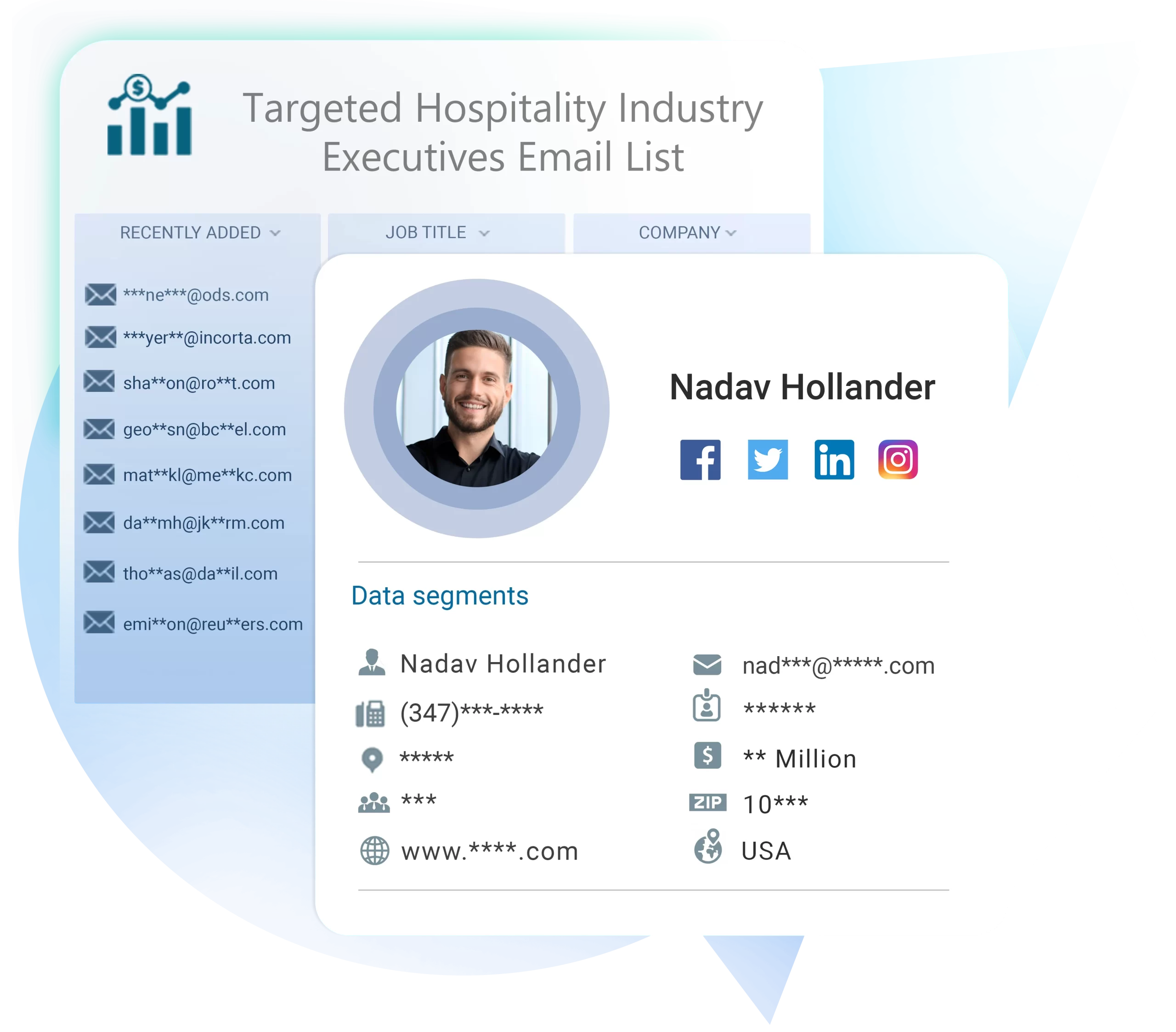 Reach Decision Makers With Our Hospitality Industry Email List