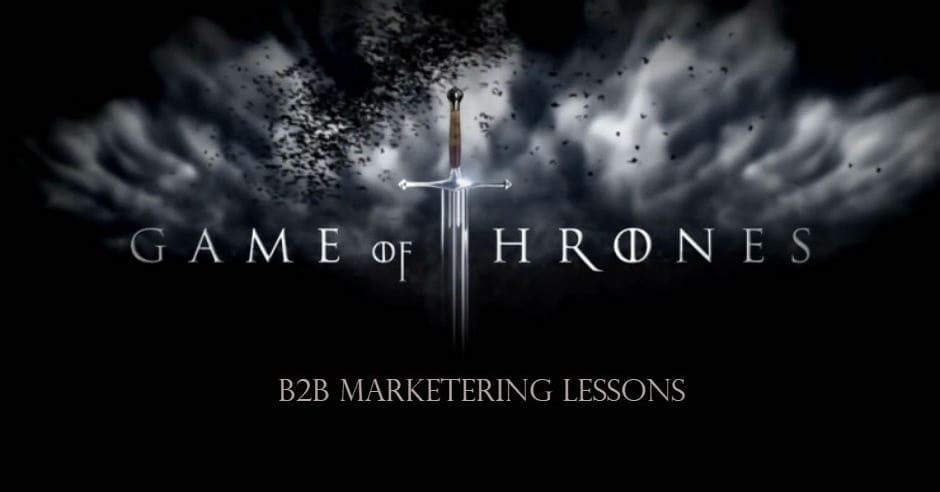 Eight seasons, perfect comebacks, unexpected plots, love, bloodbaths, fiery dragons, and power packed dialogues – is not just what the favorite 'Game Of Thrones' is all about! Apart from keeping the audience glued to the screen with witty one-liners and cinematic pleasures, it also has a lot of lessons for B2B marketers out there. So we thought of collating all of that into a single plate and serve you with the most exceptional marketing lessons.
*Note – This explainer is not littered with spoilers ahead. So, you can continue reading without any fear.
1. Have a Clear Goal
Creating a most epic television show in the world is not a simple task. The producers, directors, writers, and other crew members of GoT clearly knew what they wanted out of it. Their goal was to grow the franchise by pleasing the fan base and then expand it to other viewers through increased word-of-mouth marketing. And for your surprise, the entire cast worked towards it to deliver exceptional performance.
Based on Martin's series of novels, "A Song of Ice and Fire," the team was able to create wonderful, heartbreaking, treacherous, magical, and memorable scenes which is almost impossible for the viewers to pick one episode or forget everything as a whole. The success of this show is not just associated with the number of viewers, but also the awards it won. The show has won more than 300 awards with 500+ nominations. Also, it holds six records from the Guinness Book of World Records – "Most pirated TV program" as well as "Largest TV drama simulcast" among others.
2. Listen to Your Team Members
If you have watched every single episode of GoT, you will know how this lesson resonates well for the marketers. Almost every chapter contains a leader who either practices responsible leadership or makes ethical judgment calls. For instance, Queen Daenerys Targaryen, one of the much-loved fictional character built her following right from scratch. She was able to command the ten thousand armies just by being compassionate and offering a listening ear. Queen D knew every decision would impact the people under her. She always set them free, but those people chose to follow her because of her loyalty.
I will answer injustice with justice. ~ Daenerys Targaryen
B2B executives or managers are often caught up in a situation where they need to decide wisely to grow their brand value as well as customer base. As team members are the forefront of any organization, considering their thoughts during challenging times may provide useful insight for the business. So, take some time to listen to the other members of your team, and take their opinions. But, sensibly consider it before implementing to evade any faux pas.
3. Support Diverse Workspace
Diversity is always essential for the growth of any organization, be it small scale or large enterprises. Daenerys is the best example in this case. She works to find talented add-ons for her team and thereby takes advantage of the mistakes of other leaders fighting over Westeros. It helped her not only to strengthen her reign but also provided opportunities to her army members who did not get a chance to showcase their skill under the previous headship.
It's high time for the B2B leaders to understand the importance of this strategy and cultivate an all-encompassing and diverse team that caters to the needs of various employees.
4. Be a Role Model for Employees
Being a leader is not sufficient to grow an empire. You should possess several potentials within you because people see and follow your path. So, it's vital for any B2B leader to set the right example for the team members. Jon Snow showed the audience what it takes to be a dedicated leader with vision. When the Night King attacked him and Wildlings, he chose to set the right example for people even though he had to make a tough decision. His bold move to do good for others over making a selfish choice came up as an excellent lesson for the viewers.
In a Battle, discipline beats numbers nine times of every ten. ~ Jon Snow
Therefore, as a B2B leader, you must always uphold the principles of your business since it is capable of building the brand entirely. You should treat your team the way you treat yourself to boost their productivity. The mindful leadership traits such as pursuing precision and being aware of workplace stress can create a best-in-class culture in the organization that values both the physical and mental wellbeing of team members.
5. Identify the Real Problem
Starting a B2B firm or working towards its goal is usually covered with a lot of unanswered glitches. Maybe your clients don't trust you, or your employees don't put in all their effort to make it happen. There can be various such reasons that are real and needs some thorough understanding of it to solve the riddle. In Game of Thrones, you might have seen how Stannis Baratheon struggles to identify the real cause of his failure after a disastrous loss at the Battle of Blackwater. He finds himself less likely to sit on the Iron Throne.
With the help of Davos Seaworth, he was able to identify that his fight for the throne is not the biggest problem, but it's what lies beyond the Wall. Stannis is the only possible king to truly devote soldiers to shielding the Wall, which would otherwise doom the entire land. He learned there was something bigger causing them. Perhaps the same might happen in your workplace.
For instance, your service is really annoying that makes the user experience unfriendly. Or the clients take a long time to receive the invoice because of faulty invoice module. Fixing the small glitches may help you patch large holes in your company. So, pay more heed to it and fine-tune the areas that oddly creates the problem.
6. Timing Matters a Lot
Yes, timing is everything for promotion. Businesses can garner more considerable attention from the audience when it spreads the word earlier and when the trend is still on. The team of Game of Thrones knew it and jumped on to the promotional activity when it was hot. You can follow this pattern to boost your brand value along with promoting the last season of GoT. One of the famous brands, Mountain Dew, has executed this strategy wisely. They created the Game of Thrones theme song and showed us how to do event video marketing brilliantly. Their rendition was released on April 2 and has gained 5.2M views. Also, their video features sports stars and musicians up until the last few seconds.
https://www.facebook.com/mountaindew/videos/272178057005218/
Video Source: Mountain Dew
If your B2B brand has big enough budget to enlist well-known celebrities or influencers in your segment, you can feature them in your content or ask them to speak on behalf of your firm. It will likely pull in lots of attention. But always remember to jump on a trend when it's hot because some trends may last for years whereas some others last only for a few days.
Note: Make sure you don't jump on every trend you find interesting. We agree that trend marketing is fun. But while trying to grab the attention of your prospect, your brand may just fade into the noise. So, pick the one wisely.
Go Forth and Rule the Seven Kingdoms!
Now you know the HBO mega-series Game of Thrones is not "just a fantasy" where several noble families fight to gain control over the land of Westeros. It is much more than that! When you dive deep into all eight series of this masterpiece, you will realize GoT world is similar to the market space surrounding us. The lessons captured from Westeros' would-be rulers will aid the B2B leaders to take over their possessions in the highly competitive business sphere. It's time for the marketers to acknowledge the fact that "Winter is Coming," and be prepared for what's awaiting this season.